U.S. to increase Middle East military presence
Rare West Bank airstrike targets mosque containing 'terror cell,' Israeli military says
BE'ERI, Israel — The Israeli military said Sunday that it had launched an aerial strike from a military aircraft on an underground compound at a mosque in the occupied West Bank containing a "terror cell."
Hamas and Islamic Jihad terror operatives "who were organizing an imminent terror attack," were hit in the rare strike on compound in the city of Jenin, the Israel Defense Forces and the Israel Securities Authority said in a joint statement.
NBC News could not independently verify this claim.
"Intel was recently received which indicated that the terrorists, that were neutralized, were organizing an imminent terror attack," the statement said. It added that the mosque was used "as a command center to plan the attacks and as a base for their execution."
The West Bank has seen a rise in tensions and violence since the Hamas attack, with dozens of Palestinians reported killed in clashes with Israeli troops, attacks by Jewish settlers and frequent arrest raids. Violence had already been soaring before the eruption of war in Gaza.
Gaza rocket flies over kibbutz that was site of Hamas massacre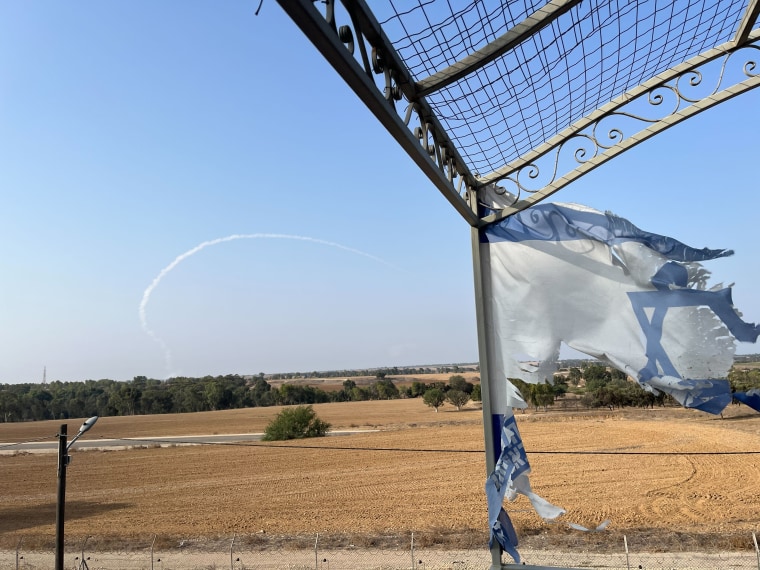 RE'IM, Israel — At one of the kibbutzes in southern Israel that was attacked by Hamas two weeks ago, NBC News saw a rocket being fired from Gaza.
From a roof terrace in Re'im, where the Supernova music festival was also held, the rocket arced through the hazy morning sky, making a whooshing sound, leaving a trail of smoke and followed by a distant thud. The rocket was destined for another part of Israel, further north, and no alarms sounded here.
This kibbutz is around 3 miles from the border with Gaza. From that direction, the morning has been accompanied by the metronome of muffled booms, as Israel continues to bombard the Strip.
U.S. to increase military presence, readiness in Middle East
The United States is increasing its military presence in the Middle East in order to help defend Israel if necessary, deter Iran and its proxy forces from entering the war, and protect U.S. forces already in the region, the Pentagon announced today.
U.S. Secretary of Defense Lloyd Austin directed the strengthening of the nation's defense posture in the region after consulting with President Joe Biden, he said in a nighttime statement.
The new show of force includes moving the USS Dwight D. Eisenhower Carrier Strike Group to the Central Command area, where it will be able to supplement the USS Gerald R. Ford Carrier Strike Group, which is in the Eastern Mediterranean Sea, Austin said.
A Terminal High Altitude Area Defense (THAAD) battery and additional Patriot battalions are also being deployed to the region, he said. Additional forces are being placed on "prepare to deploy" status "to increase their readiness and ability to quickly respond as required," the secretary of defense said.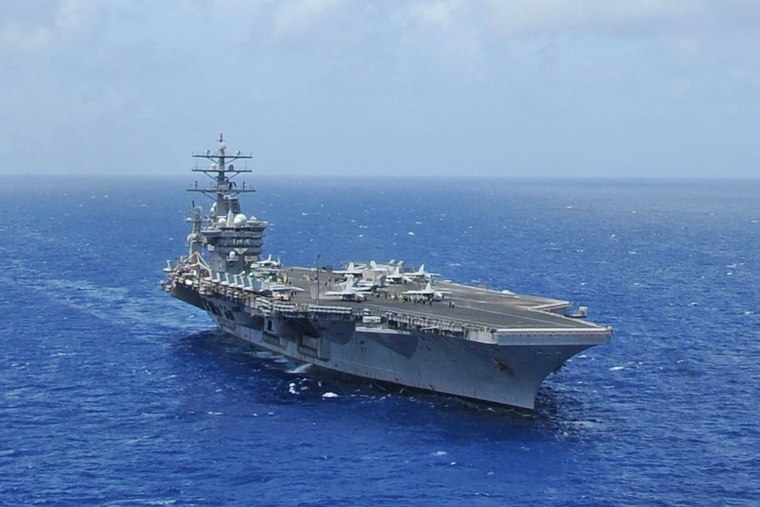 How NBC News verifies videos from the Israel-Hamas war
NBC News' Social Newsgathering team is helping fight the fog of war, working to get an accurate, confirmed set of facts about the situation in Israel and Gaza.
Here's how journalists are using tech tools and old-fashioned reporting to get to the truth about viral videos and images.  
In critical swing state, some Muslim Americans warn they won't back Biden again
As Biden declared unwavering support for Israel in the days after Hamas' terrorist attack in Israel, Ahmad Ramadan, a former Biden adviser now leading coalition efforts for the Michigan Democratic Party, called the state party chair to raise the alarm about what he was hearing.
Michigan has one of the largest Muslim and Arab American populations in the country, and they say their support for Biden was instrumental to putting him over the top in the critical swing state in 2020. But now, Ramadan and other Democratic leaders in the state were hearing nothing but frustration with Biden — and threats to not vote for him again.
In a series of more than a dozen roundtable discussions with Muslim community leaders in the two weeks since the Oct. 7 attack by Hamas, Ramadan said the main takeaway is that "people are very disappointed." They say they "will not forget what President Biden did and why he lied to them," he added.
"Joe Biden has single-handedly alienated almost every Arab American and Muslim American voter in Michigan," said state Rep. Alabas Farhat, a Democrat whose district includes Dearborn, which is home to one of the largest Muslim and Arab American communities in the country.