Telegram blocks channel blamed for inspiring anti-Israel riot at Russian airport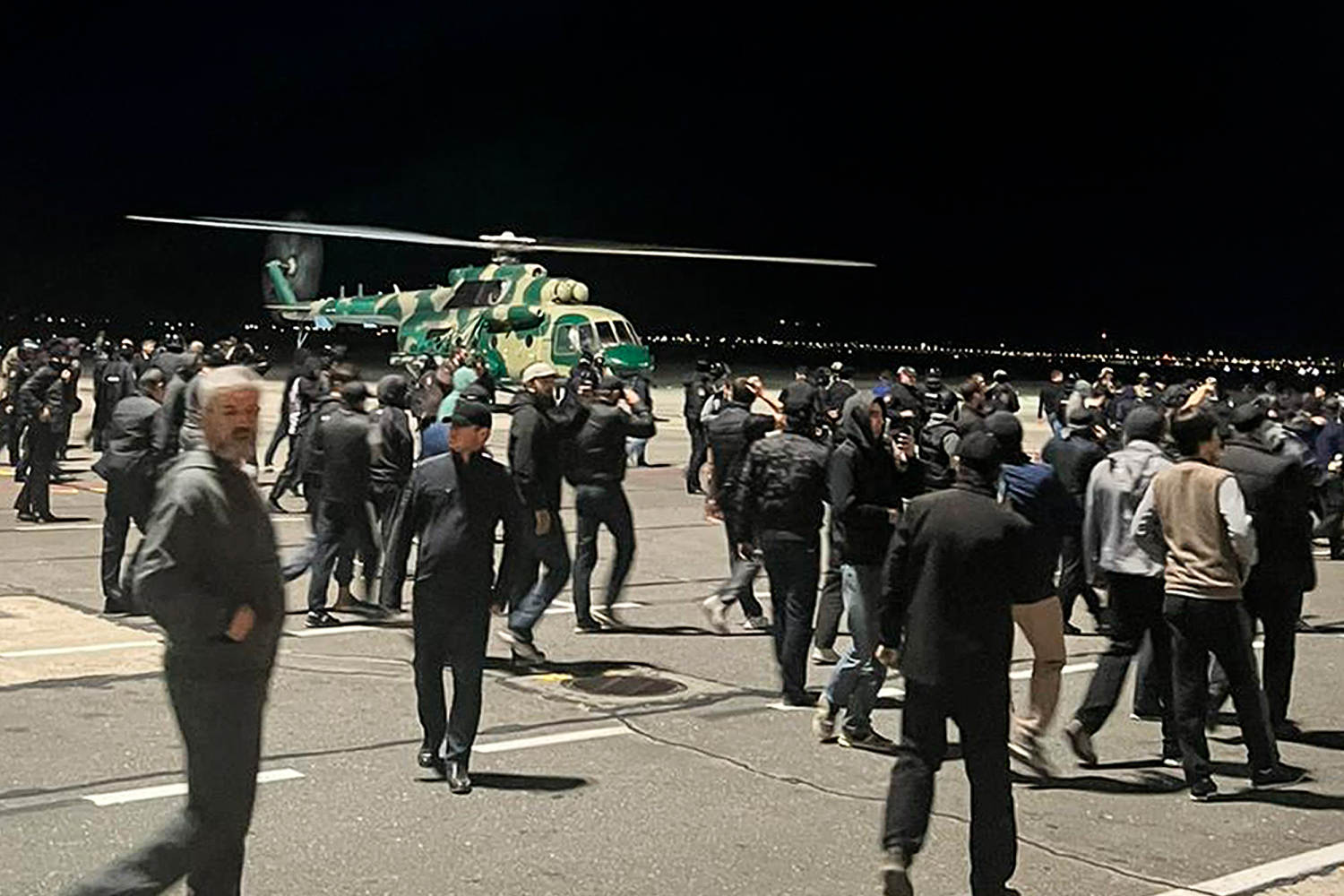 Telegram has blocked a channel popular in Russia's Muslim-majority Dagestan republic after government officials blamed it for inspiring a violent mob that breached the area's main airport looking for passengers on a flight from Israel.
On Sunday, hundreds of protesters broke into Makhachkala Uytash airport in Dagestan, a republic in southern Russia near the Caspian Sea, and onto a runway to meet a flight arriving from Tel Aviv. Many shouted "Allahu akbar," a common Muslim refrain meaning "God is great," and waved Palestinian flags, according to videos verified by NBC News.
Russia has arrested at least 60 people in relation to the riot, according to the country's Internal Affairs Ministry. The country's Federal Air Transport Agency temporarily blocked all flights to and from the airport after the riot, then announced Monday morning that most flights would resume, except for Tel Aviv flights, which are suspended indefinitely.
RIA Novosti, a Russian state-owned media agency, quoted Dagestan Gov. Sergei Melikov as blaming the riots on a popular Telegram channel, Morning of Dagestan. It is not clear who ran the account.
Telegram, a messaging app that is particularly popular in eastern Europe and the Middle East, is a largely unmoderated platform. That has made it both a crucial source for journalists and researchers looking for primary content and a haven for extremist groups and conspiracy theorists. Users can subscribe to particular channels, which then put out messages with little oversight.
In more than a dozen posts on the channel, Morning of Dagestan published screengrabs of the commercial flight's status and encouraged Muslims in the area to gather at the airport to aggressively question passengers about whether they condemned Israel and block them from leaving unless they condemned the Israeli government. It also told them to record passengers and track their license plates but to avoid assault.
Telegram's founder, Pavel Durov, said in a post to his Russian-language account early Monday that accounts calling for violence would be blocked. The post included a screenshot of a Morning of Dagestan post.
The riot is one of the latest instances of international unrest inspired by the deepening war between Israel and Hamas, the group that runs Gaza's government and is also officially recognized by many Western countries as a terrorist organization. It also follows recent criticism aimed at Telegram for allowing Hamas channels and content on the app.
In a rare move for the platform, Telegram appeared to block the Morning of Dagestan account Monday. When NBC News tried to view it, it received an error message saying, "Sorry, this channel is not accessible." The company forbids calls to violence on its platform but only sporadically removes posts, even from terrorist groups like the Islamic State, better known as ISIS. 
Melikov claimed without evidence that the channel was operated out of Ukraine, which is at war with Russia. Oleg Nikolenko, a spokesperson for Ukraine's Foreign Affairs Ministry, responded on Facebook that the attacks were the result of Russian antisemitism.
Durov was born in St. Petersburg, Russia, in an environment of heavy censorship that he has said imbued him with a fierce devotion to free speech. The company is headquartered in Dubai.
Hamas has used Telegram accounts as its primary social media presence for years. Durov initially defended keeping the channels available, noting that they served both as valuable primary sources and to warn Palestinians of Israeli strikes. But in an unusual development, Telegram deployed several versions of its platform last week. Ones downloaded through the official iPhone or Android app stores blocked major Hamas channels, but its own custom Android app and the web version of Telegram did not.
Telegram has not responded to requests for comment.
Last week, the Anti-Defamation League, a Jewish advocacy group, said it had recorded a 400% rise in antisemitic incidents since last year.