South Korea holds military parade, warns North on nuclear threat
South Korea put on the first large-scale military parade in a decade on Tuesday, with weapons ranging from ballistic missiles to tanks rolling through Seoul in a show of force as it takes a tougher stance against North Korea.
The parade marks the country's Armed Forces Day, normally a muted event relative to the massive events the North has staged under leader Kim Jong Un that include strategic weapons such as intercontinental ballistic missiles (ICBMs).
In a speech at Seoul Air Base, President Yoon Suk Yeol warned Pyongyang against the use of nuclear weapons and pledged to ramp up support for the military and the defense industry.
"If North Korea uses nuclear weapons, its regime will be brought to an end by an overwhelming response from the ROK-U.S. alliance," Yoon said while addressing troops in the rain. ROK is the initials of the South's official name, the Republic of Korea.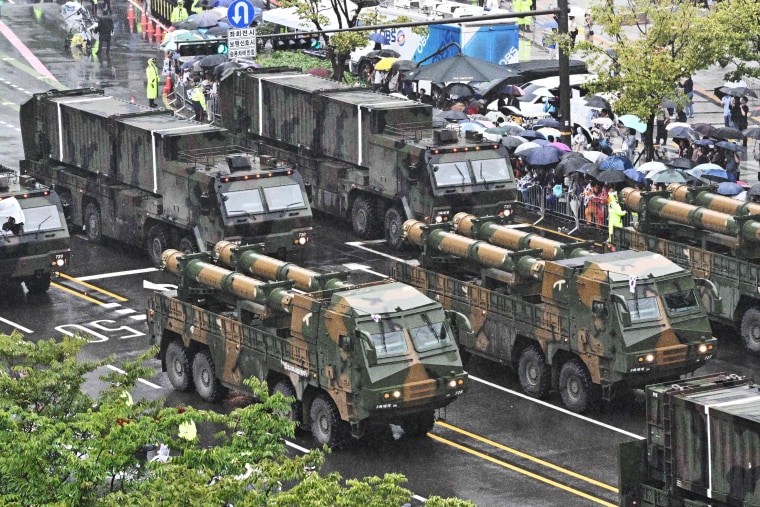 The full-day event featured thousands of troops and South Korea's home-grown tanks and self-propelled artillery, joined by 300 of the 28,500 U.S. soldiers based in the country, the Defence Ministry said.
The highlight was a 1.24 mile parade through Seoul's main commercial and business district to the bustling Gwanghwamun area that is the gate to a sprawling palace in the heart of Seoul.
Crowds lined the streets in the rain to take in the rare display of military hardware up close, cheering as troops, tanks, missiles and underwater drones passed by.
South Korea last held a military street parade in 2013. The Armed Forces Day event and parade were held ahead of the actual day on Oct. 1, as it overlaps with a major national holiday this year.
The event comes as President Yoon has taken a hawkish stance on North Korea, making displays of weapons and military drills a cornerstone of his strategy to counter the North's evolving nuclear and missile programs.