Scalise or Jordan? Republicans will try to nominate their next speaker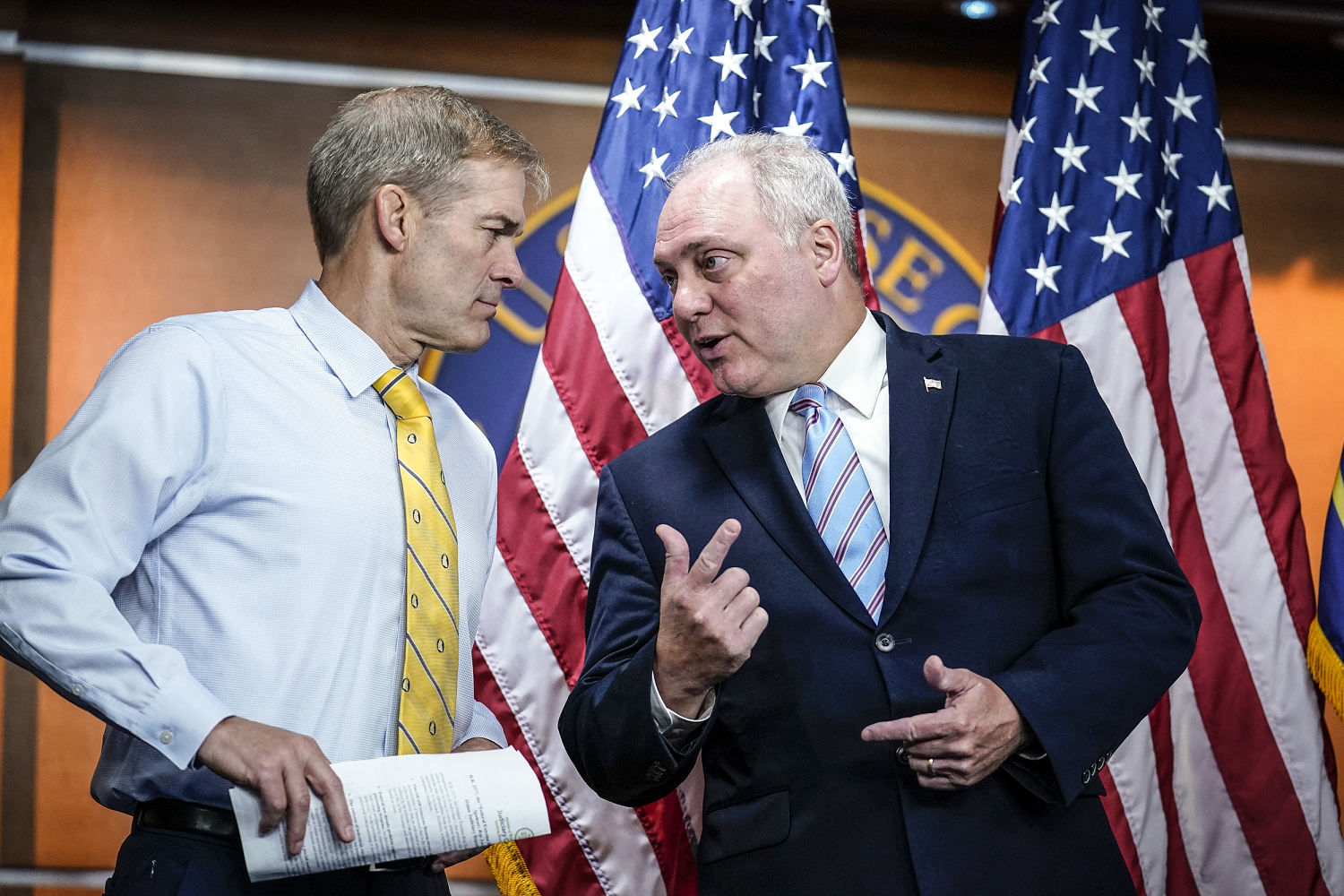 WASHINGTON — House Republicans are huddling behind closed doors Wednesday and hoping to select a successor to Rep. Kevin McCarthy as speaker — but many remained pessimistic that the full chamber will quickly elect a winner.
Whoever wins the secret ballot will face the arduous task of uniting the party behind him. The nominee will still need to secure a simple majority of all House members — which will translate to at least 217 of the 221 GOP members. Democrats are expected to rally behind Minority Leader Hakeem Jeffries of New York.
"I put it at 2%," Rep. Thomas Massie, R-Ky., said Tuesday night when asked whether Republicans would settle on a speaker Wednesday morning.
The two candidates vying for the most powerful post in Congress are Majority Leader Steve Scalise, R-La., and Judiciary Committee Chairman Jim Jordan, R-Ohio. The two spent most of Tuesday making their pitches to small caucuses and state delegations — and eventually the full GOP conference — about why they should be elected speaker.
Scalise said after he addressed colleagues in the candidates forum: "I've been a unifier and somebody who's built coalitions throughout my entire career, and we've delivered big wins, and people want to see us get back on track. We need to get Congress back to work."
Scalise and many rank-and-file Republicans made it clear they will vote on the floor for whomever wins the GOP nomination Wednesday. (To win the nomination, a candidate needs a simple majority of the GOP conference, or 111 votes.)
Given Republicans' slim majority, it would take only five Republicans' refusing to back the nominee to cause a deadlock.
Several who helped cause the deadlock in January that resulted in McCarthy's needing 15 ballots to be elected speaker indicated they wouldn't be joining the rebels this time.
"I know that Jim is committed to conservative principles. I don't doubt that with Steve, but I just know that with Jim," said Rep. Byron Donalds, R-Fla. "No. 2, having a fresh look at leadership across the board might be a good idea for our conference. No. 3, you got to be able to bring our entire conference together, and I think Jim has the ability to do that."
Despite his support for Jordan, Donalds said he would vote for Scalise on the floor if he were to win the party's nomination.
Rep. Buddy Carter, R-Ga., said he has endorsed Scalise but added that either candidate would be a capable leader. "Absolutely," he said when asked whether he'll back the eventual nominee on the floor.
If 217 Republicans follow that approach, the House could be on a smooth path to electing a speaker. If they don't, it could take awhile.
"A lot of people like Steve, and a lot of people like Jim. I don't know how the hell you get to 218," said Rep. Troy Nehls, R-Texas, a Jordan backer who added that he wouldn't support someone simply because he wins a simple majority. "It could be a long week."
Homeland Security Committee Chairman Mark Green, R-Tenn., also said he'll support the nominee. But he laid out the challenges for the candidates as they made their pitches to colleagues, including the days-old Israel-Hamas war and the Nov. 17 government funding deadline.
"The guys like the New York caucus, those guys don't want to shut the government down, right? So then you've got some on the other side of that curve, and they're very open to shutting down the government," Green said. "This is the needle that has to be threaded."
Ahead of the caucus meeting Tuesday, centrist Rep. Brian Fitzpatrick, R-Pa., and conservative Rep. Chip Roy, R-Texas, proposed a resolution to require Republicans to secure 217 votes behind a nominee before they go to the floor to vote. The goal is to avoid a repeat of the embarrassing spectacle that McCarthy, R-Calif., faced.
If the House Republicans can't get enough support, some members have suggested, additional candidates could enter the race.
Rep. Kevin Hern, R-Okla., the chairman of the largest caucus of conservatives on Capitol Hill, isn't ruling out a speaker's bid if the declared candidates can't get to the magic number of 217.
Others who could get looks include GOP Conference Vice Chair Mike Johnson, R-La.; Rules Committee Chairman Tom Cole, R-Okla.; or Donalds, a member of the conservative Freedom Caucus.