Rashida Tlaib accuses Biden of supporting Palestinian 'genocide'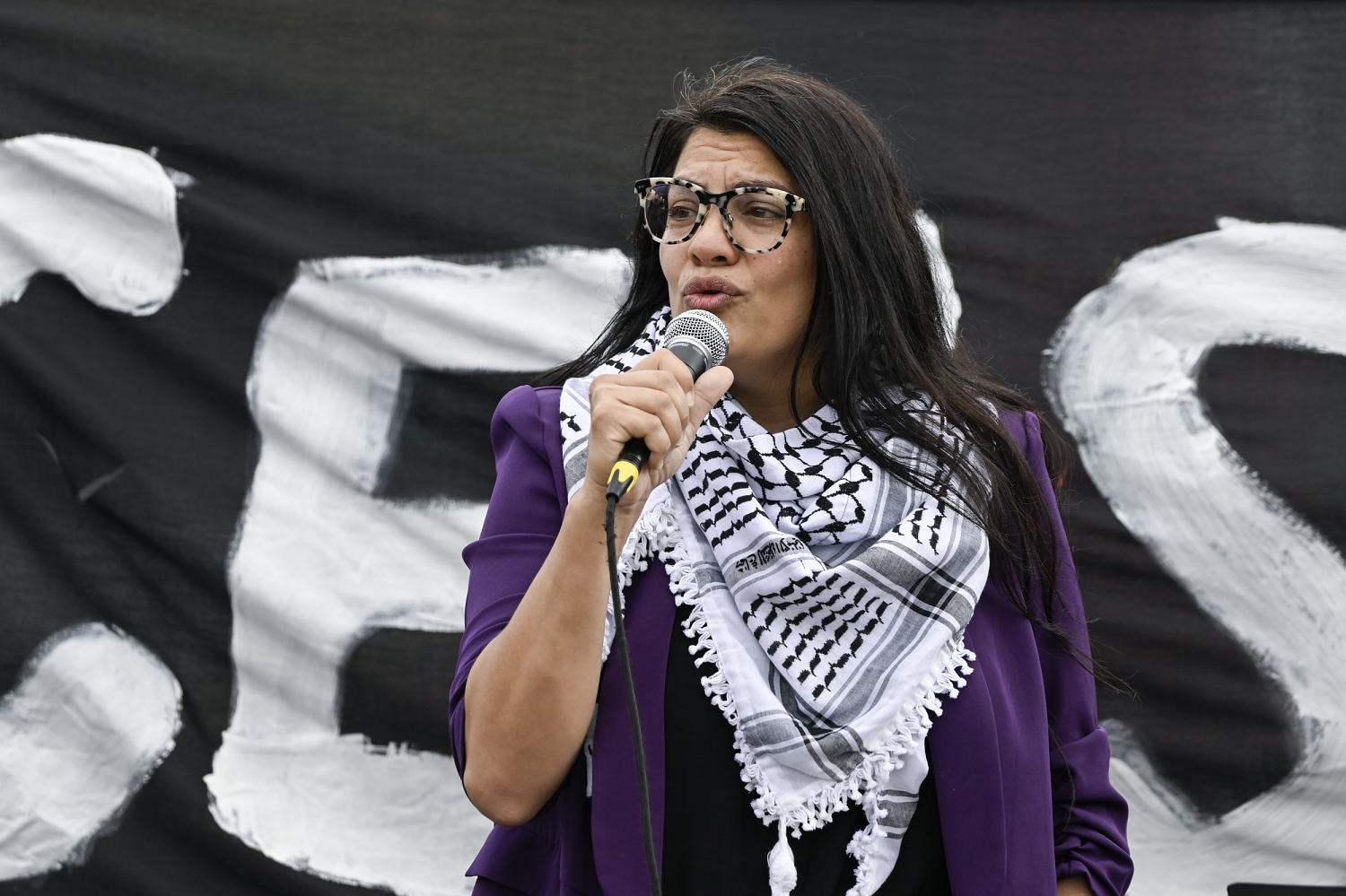 Democratic Rep. Rashida Tlaib of Michigan accused President Joe Biden of supporting "the genocide of the Palestinian people," in a video posted Friday.
The roughly one and half minute video posted to X, features footage from protests in Tlaib's home state of Michigan, as well as California, New York and battleground states like Pennsylvania and Ohio where people held Palestinian flags and chanted phrases like "Free Palestine!"
"Mr. President the American people are not with you on this one," Tlaib says.
The video closes with Tlaib saying, "We will remember in 2024," followed by the text, "Joe Biden supported the genocide of the Palestinian people," written in all capital letters.
The White House and Biden's campaign did not immediately respond to a request for comment.
The post comes a day after Tlaib, the only Palestinian American in Congress, said that Americans "do not support funding for war crimes" and took direct aim at Biden in a statement.
"As the Israeli government carries out ethnic cleansing in Gaza, President Biden is cheering on Netanyahu, whose own citizens are protesting his refusal to support a ceasefire," Tlaib said in the statement. "We must be laser focused on saving lives, no matter their faith or ethnicity."
Tlaib is one of a growing number of Muslim American leaders in swing states who have been warning Biden that he is losing support in their communities ahead of the next presidential election because of his handling of the Israel-Hamas war.
Biden said last week that the flow of humanitarian aid into Gaza needed to "increase," a day after Secretary of State Antony Blinken said "humanitarian pauses must be considered" so food, water, medicine and other essential humanitarian assistance can flow into Gaza.
Tlaib has repeatedly called for a cease-fire in the war in the wake of Hamas attacks that involved seizing hostages and killing about 1,400 people in Israel.
Tlaib has criticized U.S. funding for the Israeli military, arguing that the government has supported Israel without considering humanitarian guardrails. She delivered remarks at an Oct. 18 rally with demonstrators outside the Capitol calling for a cease-fire.
More than 1.4 million people have been displaced in Gaza, according to a United Nations estimate, and Palestinian health officials have said more than 9,200 people have been killed in the territory.