Prospects look bleak as Congress races to avoid a government shutdown
WASHINGTON — Congress is hurtling toward a government shutdown, with money set to run out in a little more than two days and no sign of a short-term funding deal between the Republican-led House and Democratic-controlled Senate.
With time running short, the two chambers are moving in different directions and remain far from converging on a path to resolve their disputes.
Follow along for live updates.
The Senate has been slowly advancing a bipartisan stopgap bill, known as a continuing resolution or CR, with overwhelming support in the chamber; it would fund the government at current levels through Nov. 17 and provide roughly $6 billion in aid for Ukraine and another $6 billion for disaster aid.
That bill is on a path to clear the Senate in the coming days as members negotiate to reach an agreement to vote quickly. But too many House Republicans say they strongly oppose that bill.
Meanwhile, Speaker Kevin McCarthy said he plans to bring a short-term funding bill to the floor on Friday, ahead of the 11:59 p.m. Saturday deadline, but the conservative package calls for steep spending cuts and a border and immigration measure that would be dead on arrival in the upper chamber.
We'd like to hear from you about how you're preparing for a possible government shutdown, whether you might be out of work or feel the effects of shuttered services. Please contact us at tips@nbcuni.com or reach out to us here.
It's not even clear McCarthy has the votes for a short-term bill, with many of his far-right members opposed to any kind of continuing resolution.
One of them is Rep. Matt Gaetz, R-Fla., McCarthy's chief GOP antagonist, who said that if McCarthy puts the Senate bill on the floor, he would move to overthrow him from the speaker's job.
"If the leadership moves a Democrat spending bill to advance Democrat priorities, then there's very likely to be a motion to vacate that the speaker would face," Gaetz said. "It's so obvious, I can't believe I have to say it out loud."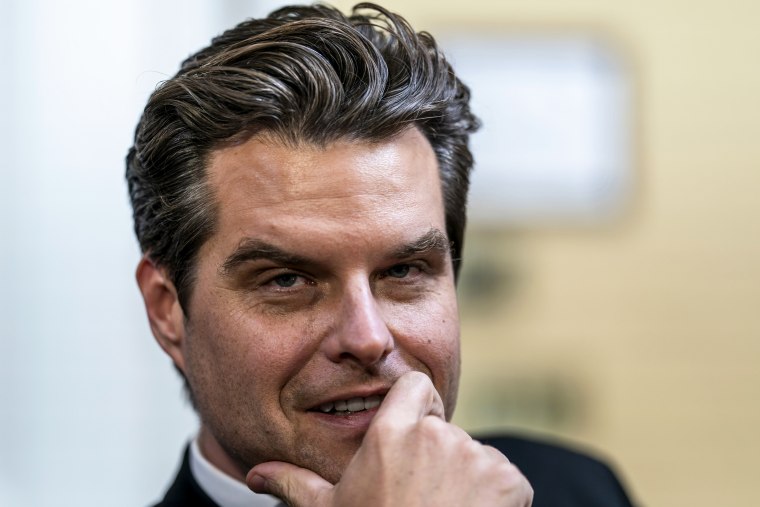 Speaking at a closed-door meeting Thursday morning, McCarthy urged rank-and-file Republicans to rally behind his latest strategy: pass a Republican CR to keep the government open temporarily, which will allow the House to continue making progress on passing individual appropriations bills.
"If we don't pass a CR, we weaken ourselves," McCarthy said, according to a lawmaker in the room.
Rep. Tim Burchett, R-Tenn., who plans to vote no on the CR, said the probability of a shutdown is "very high." And he mocked Congress for frantically trying to solve the funding issue at the last minute, even though the Sept. 30 deadline has been known since last December.
"We're really busting our ass. We're working at 10 o'clock in the morning and we're going to take two hours for lunch and then come here at 4 o'clock with our Brooks Brothers suit thrown over our shoulder and our sleeves rolled up and our collars undone, and tell the American people we're working — they know it's not true," Burchett said. "So, I really don't have a lot of faith in this."
Staff members at some federal agencies began receiving their first official communications Thursday about the impacts of a possible shutdown. One message to employees at the Social Security Administration says, "We understand uncertainty can be unsettling," and reminds them that "there is still time for the Congress" to avert a funding lapse.
Emerging from Thursday morning's meeting at the Capitol Hill Club, a private GOP club near the Capitol, conservative Rep. Ralph Norman, R-S.C., said the text of the House's CR, including details like how long it would keep the government open, could be posted Thursday night or Friday morning.
But Norman wouldn't commit to voting for McCarthy's CR: "The devil's in the details," he said, adding that he does want the House to send something to the Senate. 
Another staunch opponent of a stopgap bill is Rep. Matt Rosendale, R-Mont. And Rep. Ken Buck, R-Colo., said he'd only vote for it if it cuts spending sharply, down to fiscal 2019 levels. Given how small the GOP majority is, McCarthy can only lose four votes on legislation.
Buck said McCarthy is facing "trouble" of his own making.
"The promise the speaker has is he's made three different promises to three different groups in the Republican conference," Buck told NBC News. "So he can't reconcile those three numbers, and so that's really the issue. But I don't see a lot of people wanting to compete for that job right now."
President Joe Biden endorsed the Senate bill, telling McCarthy to honor the budget deal the two men reached earlier this year, which McCarthy has since sought to renege on under pressure from GOP hard-liners who insist on steeper spending cuts.
"This May, Speaker McCarthy and I reached a deal that would fund essential priorities and cut the deficit over $1 trillion," Biden said. "Now, there's a group of extreme House Republicans who would rather shut down the government than live up to that deal."
But now, some Senate Republicans are trying to make some last-minute changes, wanting to add border security provisions to make the CR more palatable to the House. Sen. Lindsey Graham, R-S.C., and other Republicans huddled in GOP Whip John Thune's office Thursday to discuss a border security strategy, but Graham conceded these talks were happening late in the game.
"Why do you wait to study right before you test?" Graham joked with reporters. "Border security is the key to the House. Border security is the key to a bunch of people on our side. But we are where we are."
"The good news is that people are now talking about a substantive border proposal to be added to what we already have," the senator continued, "and without that, you're not going to get maximum Republican votes in the Senate and you have no chance in the House."
Thune briefed GOP members on border talks at the party's lunch Thursday, Sen. John Boozman, R-Ark., said as he left the room.