Oasis star Liam Gallagher voices announcements on Manchester tram line | Ents & Arts News
Former Oasis frontman Liam Gallagher is voicing announcements on Manchester's tram network this week. 
The Mancunian star will provide transport information to Metrolink passengers while the city hosts the Beyond The Music festival.
More than 100 artists will be performing at 17 venues across the city from Wednesday to Saturday – including a day of free concerts culminating in a secret gig.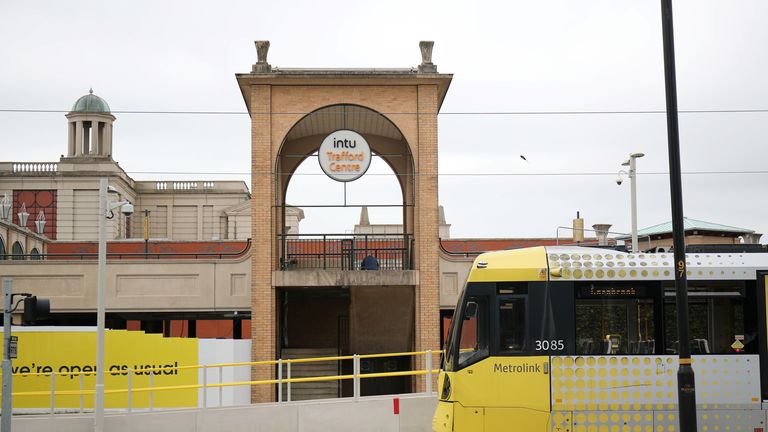 Gallagher's announcements also mark the launch of the Bee Network – the first locally controlled bus service in nearly 40 years.
A spokesman for the musician said: "Liam's doing his bit to get behind the festival and encourage people to get into the city and support new up-and-coming talent.
"When the request was first made by Bee Network champion Andy Burnham, Liam loved the idea of surprising tram users by doing the announcements, and he was given the chance to choose his favourite line. You'll have to get onto a tram into the city to find out which it is."
Greater Manchester Mayor Andy Burnham said: "We are supporting it all the way and are confident that it will become a fixture in the city's calendar.
"True to Manchester's traditions, Beyond The Music is a co-operative endeavour which aims to give all players in the music industry an equal voice and equal say on the change it needs.
"By doing that, our aim is to strengthen one of Manchester's, and Britain's, most important exports.
"There surely can't be any better way of marking the launch of the Bee Network and the first Beyond The Music than getting one of Manchester's most famous voices announcing the stops on his favourite Metrolink line."
Read more:
Holly Willoughby quits ITV's This Morning
Netflix star heads to Israel warzone to rescue families
Jerry Seinfeld hints at TV show reunion
Mr Burnham added: "It means a lot to us that Liam has agreed to do this and show his support for his home city.
"Supporting our music venues and giving people cheaper and better public transport to and from our gigs is what we're all about.
"I am sure that Liam's dulcet tones will wake up a few early-morning commuters, brighten up many a journey, and produce a lot of smiles along the way."
The festival aims to highlight new music and grassroots venues and develop talent and infrastructure support.