In Mexico abortion is legal but social, cultural stigma remains
Clinics like Fundación ILE have been legal in Mexico City for 16 years, after a groundbreaking 2007 decision decriminalized abortion in the capital state. Other Mexican states have individually followed suit. Then, in September, the country's Supreme Court voted to decriminalize the procedure nationwide, marking a contrast to growing abortion restrictions in many U.S. states after the U.S. Supreme Court overturned Roe v. Wade.
"The [journals] are a place for women to express themselves, and so the next woman who reads them knows she isn't alone. It's part of the medical support we give them," said Daniel Lopez, an administrator at Fundación ILE. 
"We try to make it more of an accompaniment than just a medical treatment by making sure they don't feel alone — we want our clients to understand that abortion can be experienced without pain. … We want women to know that they have resources," he said.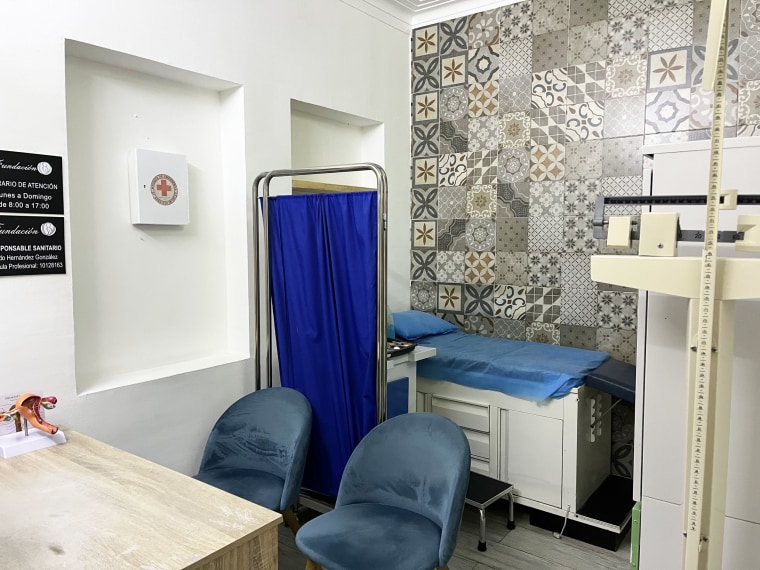 But in a culturally conservative country where nearly 80% of the population identifies as Catholic and femicide is seen as a national emergency, Mexico's Supreme Court ruling does little to quell the social stigmas that continue to drive the conversation around abortion and women's reproductive rights. The next phase of the fight, advocates and experts say, is a process of "social decriminalization" that can be even more challenging than the legal battles. 
"The decriminalization of abortion … is really just the first step in a series of very important follow-up steps that need to be taken in order for this to really be a reality," said Fanny Cata Gómez-Lugo, the director for research and advocacy programs at the Women's Equality Center, a nonprofit group that works to advance legal and reproductive rights in Latin America. 
Some of the challenges, Gómez-Lugo said, are logistical — like allocating resources and training personnel — but others are socially ingrained. 
"One thing is a legal decriminalization, and the other is actually a social decriminalization," she said. "Abortion continues to be highly stigmatized in countries even that have decriminalized it. And that really is part of embedded patriarchy and just a system that views women and people who can get pregnant as vessels for another purpose, as opposed to human beings themselves." 
A cultural flashpoint
Religion is inseparable from the cultural conversation surrounding abortion in Mexico and Latin America. About 56% of religiously unaffiliated Mexicans support abortion in "all or most cases," compared to 44% of those with religious affiliations, according to data the Pew Research Center published in June.
The tension between Mexico's fervent abortion activist movement and religious institutions and customs remains unresolved, even after the high court voted to decriminalize the procedure. In early October, weeks after the announcement, police barricades outside Mexico's Metropolitan Cathedral — the centuries-old center of Catholic worship in the country — were spray-painted with sentiments like: "My body is mine," "I decide" and "Abortion is an act of love."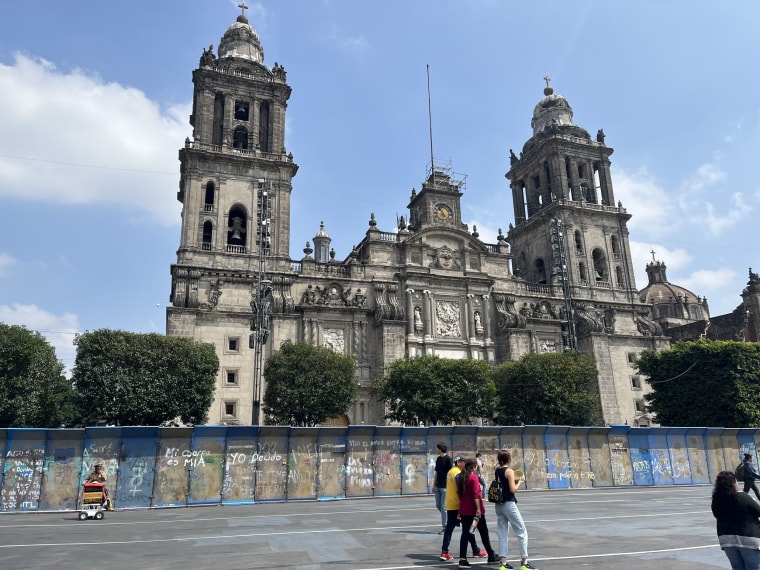 "Mexico, even though it's a secular state, is a Catholic-majority country," said Elyse Ona Singer, a professor of cultural anthropology at the University of Oklahoma who interviewed abortion patients and providers in Mexico when she was researching her book "Lawful Sins: Abortion Rights and Reproductive Governance in Mexico." "Catholic notions … of sort of sacrificial femininity run in contrast to this idea of terminating a pregnancy. So sometimes the clinical staff who are also members of this cultural background and community would advance those ideas." 
Lopez said anti-abortion narratives like those described by Singer are often accompanied by misinformation. He said the clinic's staff members have visited other private and public clinics and encountered misleading messages from abortion providers themselves. 
"At public hospitals you can receive an abortion here in Mexico City," Lopez said, adding, "They start to show you fake ultrasounds of what 12 weeks' gestation looks like or the risks that could exist — for example, a uterine perforation, excessive bleeding or death." 
Fundación ILE's response has been to spread factual information outside its walls through social media, where it uploads videos of medical providers walking patients through the process of either an at-home abortion or an in-clinic procedure. 
At the same time, Mexican organizations that advocate against abortion are using cultural messages in support of choosing motherhood — and doing so in tandem with legal advocacy to restrict the procedure. 
"Our work is very cultural," said Pilar Rebollo, president of Pasos Por la Vida (Steps for Life), an anti-abortion group that organizes a yearly "march for life" in Mexico City. "The laws are there, but we want abortion to be unthinkable in the minds of every person, every woman… [we want] to emphasize that there is a baby, that you'll get hurt, that abortion is irreversible." 
Across the border, a contrasting landscape 
A policy change — whether it be criminalization or decriminalization — can send cultural "shock waves" through a society, Gómez-Lugo said. 
The U.S. has become a regional example. Since the decision to overturn Roe v. Wade last year, women have been arrested, doctors have been reprimanded, and many women have been forced to travel across state or international lines to receive abortion care. Some of them have turned to Mexico, where the increasing availability of abortions contrasts sharply with the availability in some U.S. states.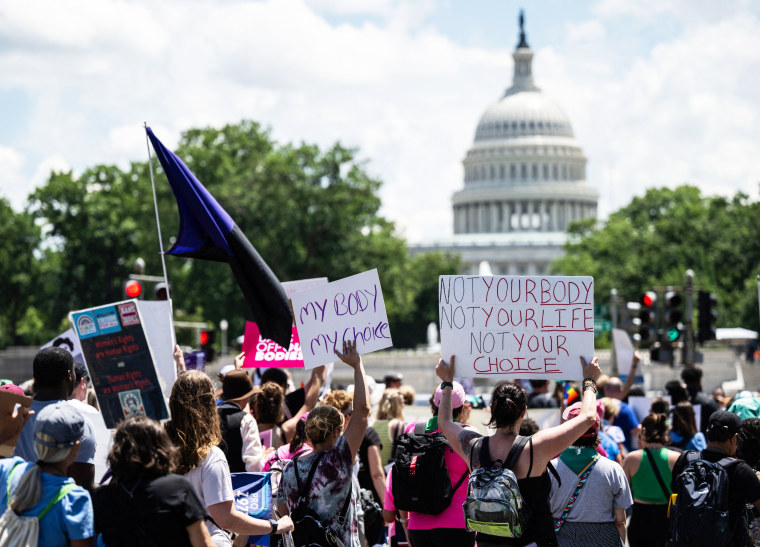 Singer said part of Mexico's appeal is the accessibility of common abortive drugs like misoprostol, which is available over the counter to treat stomach ulcers. Lopez estimated that 15% of the clients his clinic serves every month are Americans, including those who receive medication abortions, and that the number has grown since Roe's fall. 
The significance of Roe's fall is not lost on Mexico's anti-abortion movement, either — but for different reasons.
Rebollo fears Mexico has become a "touristic attraction" for Americans seeking abortions. She also said that, even though she celebrates Roe's fall as a win for the anti-abortion-rights movement, she is discouraged about how long it took to happen.
"Imagine in one, two or three generations, in 50 years, how many generations will be thinking that it's their right to abort, and how many women will be hurt? We don't want it to go on that long," she said, referring to women in Mexico.  
For more from NBC Latino, sign up for our weekly newsletter.
For women who have had abortions at Fundación ILE since decriminalization, the focus remains on the deeply personal nature of the decision. 
"It's difficult to be here, but I believe that everything will be better soon," a woman wrote on Oct. 19. "The fear to make decisions and the nerves don't go away from one moment to the next, but we must overcome them." 
"You know, I'm dying of anguish and anxiety," another woman wrote on Oct. 21. "I'm very scared and the truth is that I don't feel calm at all. But this is the best decision I can take for me, my health and my future."