IDF strikes an ambulance convoy. Gaza health officials says it was carrying the wounded, Israel says they were militants.
ASHDOD, Israel — Israel's military said it carried out a deadly strike in Gaza City on Friday on an ambulance that was being "used by a Hamas terrorist cell." Palestinian health authorities say the vehicle was part of a convoy carrying wounded people from Gaza's besieged north to the south.
At least 15 people were killed and dozens injured in the strike, which unfolded outside Gaza City's Al-Shifa Hospital, Palestinian Health Ministry spokesperson Ashraf Al-Qudra said in a televised interview aired by Al Jazeera. The Palestine Red Crescent Society, a humanitarian organization, corroborated the information in a statement.
NBC News was not immediately able to independently verify the death toll or the circumstances surrounding the strike.
Video posted to social media and verified by NBC News showed chaotic scenes: People lying bloodied and motionless on the ground. A man wailing as he carries a boy whose face is covered in blood. Blood trailing behind the wounded as they're pulled from the frenzy. A horse also appears to lie dead on the ground, while several vehicles are damaged and spattered in blood, including at least one ambulance.
Earlier in the day, the Palestinian health ministry announced that an "aid convoy loaded with the wounded" would start making its way south from Gaza City at 4 p.m. local time. It said the International Committee of the Red Cross had been asked to accompany the convoy of ambulances.
The ICRC said it was informed about the convoy, but was not involved in the operation. It condemned "violence towards medical personnel."
Both Al-Qudra and the Palestine Red Crescent Society said the convoy had departed the Al-Shifa Hospital and was bound for the Rafah Crossing at Gaza's border with Egypt to transfer patients eligible to receive medical care in Egyptian hospitals. They said the convoy had reached a road that appeared to be damaged and changed course when one of the ambulances was hit, resulting in multiple injuries.
Then, after the convoy headed back toward Al-Shifa hospital, a second ambulance was struck in front of the medical facility, with the blast killing a number of people, they said. The Palestine Red Crescent Society said the ambulance was hit just meters away from the hospital's gate. It said the vehicle was carrying a wounded person — a 35-year-old hit by shrapnel in the chest and leg was who was meant to receive medical care in Egypt. NBC News was not immediately able to independently verify those details.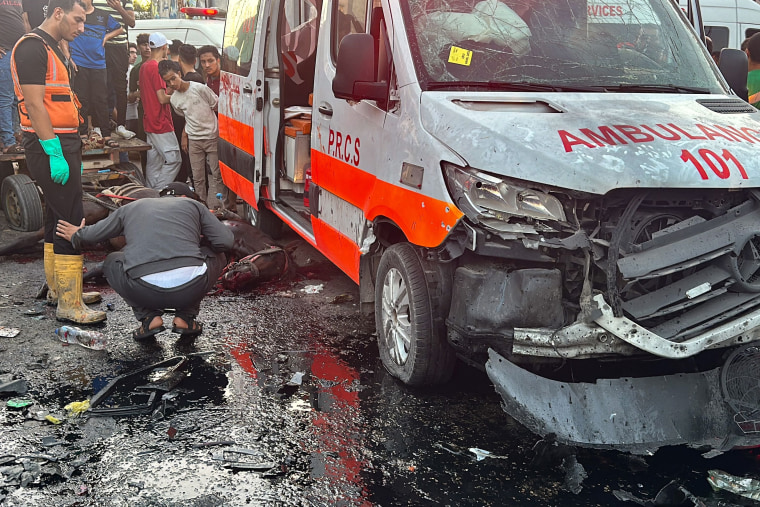 The Israel Defense Forces acknowledged that an aircraft had hit an ambulance that was "identified by forces as being used by a Hamas terrorist cell in close proximity to their position in the battle zone." It said a "number of Hamas terrorist operatives were killed in the strike."
Hamas has denied the presence of fighters in the ambulance convoy, saying the IDF's claims are "baseless."
But the IDF said it had "information which demonstrates that Hamas' method of operation is to transfer terror operatives and weapons in ambulances." It said further information about the incident would be made available, but that the IDF had already shared more details with intelligence agencies it works with.
According to a senior U.S. administration official, Hamas has attempted to send wounded fighters along with civilians across the Rafah Crossing into Egypt for medical treatment. The fighters were ultimately not allowed to leave Gaza.
"We emphasize that this area is a battle zone. Civilians in the area are repeatedly called upon to evacuate southwards for their own safety," the IDF said.
The ambulances were trying to do just that — move people south to receive medical care, Palestine Red Crescent Society spokesperson Nebal Farsakh told NBC News. Now, she said, "We are extremely concerned regarding the safety of our colleagues who are conducting their lifesaving services in Gaza."
"We call on the international community to intervene immediately to ensure the protection of our healthcare workers," she said.
The Palestine Red Crescent Society said at least eight ambulances had been rendered "inoperable due to Israeli targeting" since the start of the current conflict, which broke out after Hamas launched its brutal attack on Israel on Oct. 7. Meanwhile, the organization and Palestinian health authorities have accused Israel of targeting the areas of multiple hospitals in its airstrikes, including the Al-Shifa, Al-Quds and Indonesian hospitals.
'Nowhere is safe'
United Nations Secretary-General António Guterres said he was "horrified"by the ambulance strike as he reiterated appeals for a humanitarian cease-fire.
"I am horrified by the reported attack in Gaza on an ambulance convoy outside Al-Shifa hospital," he said in a statement issued Friday. "The images of bodies strewn on the street outside the hospital are harrowing."
"Civilians and civilian infrastructure, including humanitarian and medical workers and assets must be protected," he said, adding: "Civilians must also not be used as human shields."
Guterres noted that for nearly one month, civilians in Gaza, including children and women have been killed and displaced. "This must stop," he said as he condemned the worsening humanitarian situation in the Strip.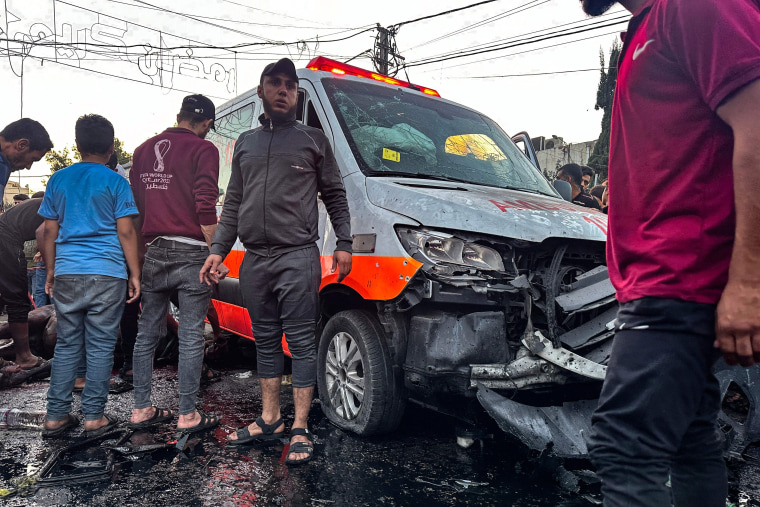 "Not nearly enough food, water and medicine are coming in to meet people's needs. Fuel to power hospitals and water plants is running out," he said. "Morgues are overflowing. Shops are empty. The sanitation situation is abysmal. We are seeing an increase in diseases and respiratory illnesses, especially among children. An entire population is traumatized. Nowhere is safe."
Faced with mounting calls for a humanitarian cease-fire, Israeli Prime Minister Benjamin Netanyahu on Friday ruled out a temporary pause in the fighting, saying he would move ahead with Israel's offensive until the hostages taken by Hamas in its Oct. 7 attack are released.
Netanyahu made the comments after meeting with U.S. Secretary of State Antony Blinken, who urged a temporary pause in Israel's offensive to address the spiraling humanitarian conditions in Gaza, while also calling for more to be done to protect civilians there.
Hamas took around 240 people hostage in its Oct. 7 attacks, which saw more than 1,400 people killed, according to Israeli officials. Since Israel launched its response, the death toll in Gaza has continued to mount with more than 9,400 people killed, according to Palestinian health authorities, while more than 1.4 million people have been displaced, according to the United Nations' estimates.