Hostage crisis grips Israel after Hamas attack
A hostage crisis — punctuated by graphic and bloody videos appearing to show militants abducting Israelis — continued to unfold on Sunday as Hamas' attack on Israel entered a second day.
Israel has not yet said exactly how many people had been taken hostage during the unprecedented attack on Israel from the Gaza Strip, with the Israeli Embassy to the U.S. saying early Sunday that dozens had been kidnapped. 
The Jerusalem Post reported that Prime Minister Benjamin Netanyahu has appointed a former military commander to lead coordination efforts around hostages and missing people.
Women, children and the elderly are believed to be among those taken, with some lists of missing people circulating online. NBC News has not verified those lists. 
"Sometimes these are mothers with their children, sometimes these are people over 70 years old. They are taken into the Gaza strip and are basically held now underground by terrorists," Israeli author and senior newspaper columnist Nadav Eyal told NBC News by phone.
A few Israelis luckily escaped kidnapping from their homes while hiding in basements. Israeli journalist Amir Tibon posted that his children had to keep silent while his family hunkered down for hours in the dark underground.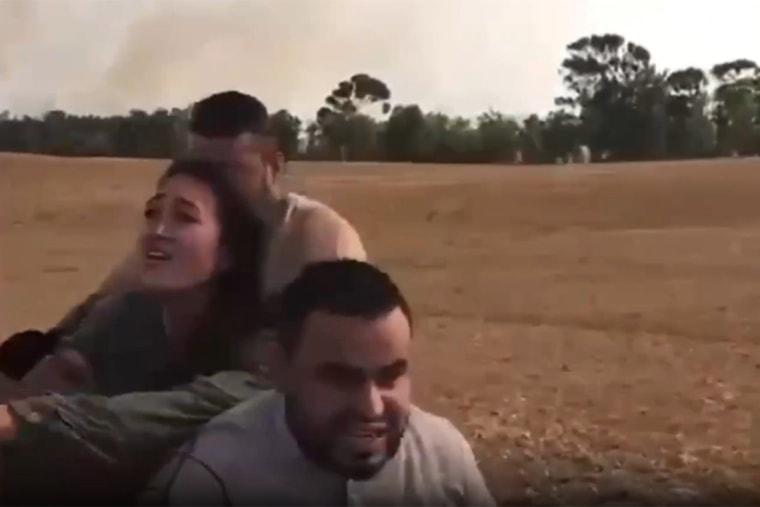 In one widely circulated video, a young woman named Noa Argamani screams as she is being driven away on the back of a motorcycle while her boyfriend is overtaken by another group of men.
In another video that appeared to be taken in Gaza, a man can be seen wielding a handgun while also holding a woman by her hair and shoving her into a vehicle. Both of those videos have been analyzed by NBC News and appear to be authentic.
Israeli media reported that a number of young women were kidnapped from a music festival that was being held on the Gaza border, with a list of photos and names circulating on social media as the attacks unfolded. 
U.S. Secretary of State Antony Blinken told NBC News he was working to verify reports that Americans are among the hostages.
"We have reports that several Americans may be among the dead. We are very actively working to verify those reports," Blinken said. "Similarly, we've seen reports about hostages and, there again, we're very actively trying to verify them and nail that down."
Israeli Ambassador to the United Nations Gilad Erdan told NBC News by phone on Sunday that he and his team are checking the numbers and that they include "a few" Americans.
The hostages immediately become a particularly sensitive part of what could be a drawn-out conflict. Any Israeli military strikes on Gaza will be much more complicated if hostages are being held there. 
"The fact that there have been certainly Israelis and maybe others brought from Israel proper back into Gaza is going to make things more complicated from an operational perspective," Jon Finer, deputy national security advisor for the Biden administration, told NBC News. "We will be closely coordinating and working with our Israeli partners on making every effort to bring those people back safely."
Hostages have been a long-running part of the tensions between Israel and Hamas. In 2011, Israel freed more than 1,000 Palestinians in return for Gilad Shalit, an Israeli soldier who spent more than five years in captivity in the Gaza Strip.