Hakeem Jeffries says House Republicans are in a 'civil war'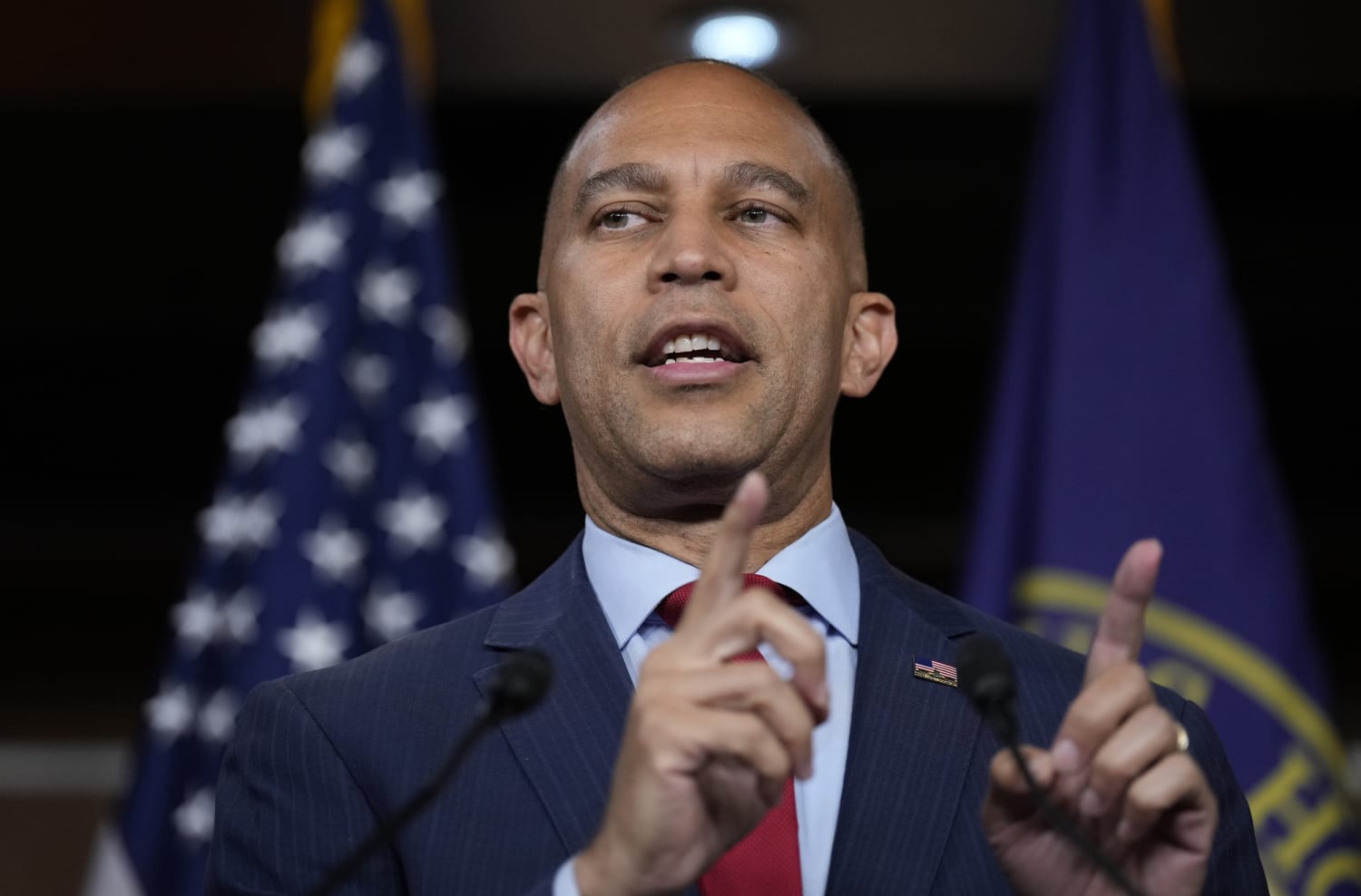 House Minority Leader Hakeem Jeffries said Sunday that Republicans are "in the middle of a civil war," as both parties wrestle for an agreement to avert a government shutdown when funding expires at the end of the month.
In an interview on ABC News' "This Week," Jeffries, D-N.Y., said: "Let's be clear: House Republicans are in the middle of a civil war."
"The House Republican civil war is hurting hard-working American taxpayers and limiting our ability to be able to solve problems on their behalf. It's unfortunate, but as House Democrats, we're going to continue to try to find common ground with the other side of the aisle to work with Senate Democrats and Senate Republicans and President [Joe] Biden."
Jeffries was asked by host Jonathan Karl to weigh in on House Speaker Kevin McCarthy's decision last week to launch an impeachment inquiry into Biden, after he had said he wouldn't do so without a full vote of the chamber.
The White House will cooperate with the impeachment inquiry "because there was nothing to hide," Jeffries said, contending that House Republicans' investigations into the Biden family have not produced evidence suggesting the president "engaged in impeachable offenses."
"There are no facts on the record, to suggest that President Biden broke the law in any way, shape or form. This is an illegitimate impeachment inquiry," he said. "It's a product of the House Republican Civil War."
He added: "Why in the world in the middle of all the issues that we are trying to tackle all of the problems that we are trying to solve on behalf of the American people? What House Republicans inject this illegitimate impeachment inquiry in the middle of us trying to do the business of the American people. It's quite unfortunate, it's wrong, it's distracting and it should end now."
Later on "This Week," Rep. Nancy Mace, R-S.C., pushed back against Jeffries using the term "civil war" to characterize tensions within the GOP.
"Using the word civil, the phrase civil war, over and over again in an interview — if that were a Republican, there would be outrage on the left," she said. "So I find it a little bit hypocritical that that is the divisive language that he used in his interview."
Intraparty fighting has ensued as McCarthy tries to pass a short-term spending bill amid his decision to move forward with a Biden impeachment inquiry. Hard right members of McCarthy's conference are threatening to force him out of the speakership if he doesn't comply with their demands, such as spending cuts, policy add-ons to must-pass government funding legislation.
They also said they will refuse to help pass a stopgap bill to buy more time before the deadline at the end of the month to avert a government shutdown.
McCarthy dared his detractors to file the "motion to vacate" the speaker's chair and try to remove him during a closed-door House GOP meeting last week, NBC News previously reported.
In the meeting, McCarthy told House Republicans, "If you want to file a motion to vacate, then file the f—ing motion," according to two sources in the room who confirmed the comments to NBC News.
Meanwhile, some politically vulnerable and centrist Republicans have been hesitant to back a formal impeachment inquiry, saying the GOP doesn't have enough evidence to make the move.