Groups of people loot stores in Philadelphia; at least 15 arrested
Stores in Philadelphia's Center City area and in other parts of the city were looted Tuesday after a crowd of juveniles and young people broke into stores, police said.
At one point the crowd making its way through Center City was around 100 people, interim Police Commissioner John Stanford said.
The looting happened on a day of protests over a judge's dismissal of charges against a police officer in the shooting death of Eddie Irizarry, but Stanford said that the thefts were not connected to the protest and that the looters were not protesters.
"What we had tonight was a bunch of criminal opportunists take advantage of a situation and make an attempt to destroy our city," Stanford said at a news conference. "It's not going to be tolerated."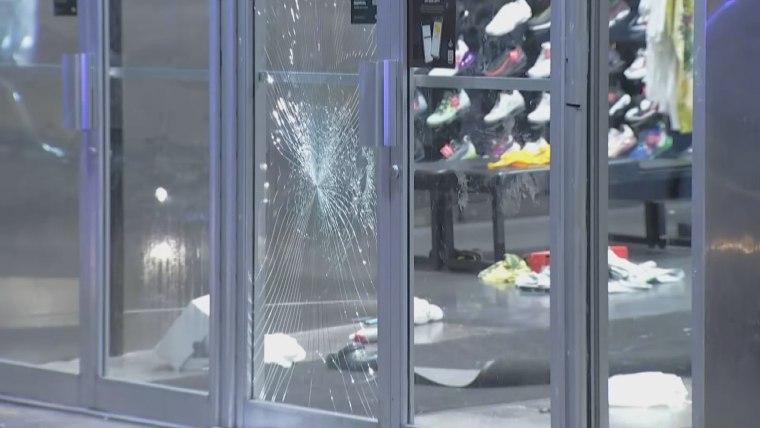 Video recorded at the scene and shown by NBC Philadelphia showed people in hooded sweatshirts running in and out of an Apple store with what appeared to be merchandise. A nearby Foot Locker was also ransacked, the station reported.
The earlier protest around City Hall, which is in the Center City area, was peaceful and ended around 7:30 p.m., police said.
Shortly thereafter there were reports of a large number of juveniles and young people in Center City, and around 8 p.m. police started getting calls about stores' being broken into and looted, Stanford said.
Around 15 to 20 arrests had been made as of late Tuesday, and two firearms were recovered, Stanford said.
Businesses out of Center City were also broken into, Stanford said. He said that some talk on social media was linked to certain locations and that a "caravan" of vehicles may have traveled to different areas.
Earlier Tuesday, Philadelphia Municipal Judge Wendy Pew dismissed all criminal charges against Mark Dial, a Philadelphia police officer accused of wrongfully killing Irizarry, 27, after a traffic stop on Aug. 14. The counts that were dismissed included murder.
Pew ruled there was not enough evidence to go to trial.
Prosecutors vowed to refile charges and later filed a notice of their intent to do so. They also said they would appeal the judge's ruling.
Philadelphia Managing Director Tumar Alexander called the looting "disrespectful to the Irizarry family and what they're going through right now."
The number of stores that were broken into was not clear Tuesday night. Stanford said the number would become clearer by Wednesday.
The Foot Locker was ransacked in what police called a "coordinated attack." Phones and tablets were stolen from the Apple Store, and a Lululemon was also looted, police said in a statement early Wednesday.
Investigators were gathering video and other evidence and will be working to make more arrests, Stanford said.
Stanford called the looting "disgusting" and encouraged people with information about those involved to tell police through a tip line.
"Everybody in this city should be angry," he said.