Georgia Harrison on her fight against revenge porn: 'I hope he has a nice life' | Ents & Arts News
Georgia Harrison is smartly dressed in a pink boucle jacket and a white blouse buttoned up at the collar, hair swept off her face in a slick, smart ponytail. But as soon as she gets off the Zoom call, she'll change into a Tinkerbell costume for early Halloween celebrations – as seen in photographs now shared on Instagram.
This is the fun, carefree woman the reality star and influencer used to be, before her ex, Stephen Bear, almost ruined her life.
It has been seven months since he was jailed for sharing CCTV footage of them having sex, recorded without her knowledge, and it finally "feels like the fog has lifted… I'm falling in love with the magic of life again".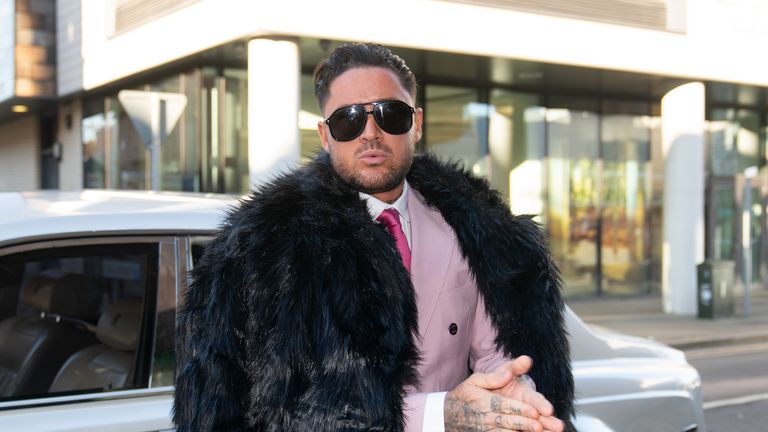 Harrison, 28, is a former The Only Way Is Essex and Love Island star.
Now, she is a well-known activist following her high-profile ordeal, which she details in her new memoir, Taking Back My Power.
It began in August 2020, after she slept with Bear. While he told her afterwards about the footage and assured her it would remain private, there was a nagging doubt.
She started to hear stories that people had seen it, and then received screenshots.
This was the hardest period of her life, she says, as she waited in limbo for the inevitable.
When the footage did go viral, first through Bear's OnlyFans account and then picked up by Pornhub, she says she was almost relieved.
"I was living in fear and I was imagining these situations… all these people are going to judge me, my friends and family are going to be so disappointed," she explained.
"I think when it actually did go viral and everyone knew about it, it was almost like a weight lifted – to be able to have the conversations with my friends and family… and then also the police and people that could actually help me.
"I think I really needed to have those conversations to understand I had nothing to be ashamed of."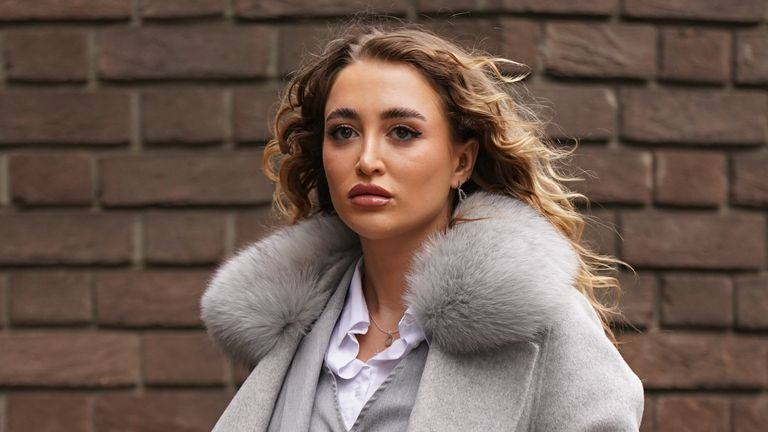 'I had no option but to go to the police'
Harrison's influencing career crumbled as brands she worked with quickly dropped her.
It is hard to overstate the shame, embarrassment and fear she felt, she says – knowing how many people had viewed the footage or were searching for the "sex tape".
But she never had any hesitation about going to the police or doing everything in her power to put a stop to it.
She even asked her Instagram followers to help her collate evidence, publicly waiving her right to anonymity as a victim of a sexual offence.
"As soon as I realised the scale of how many porn websites it was on and also the fact that he directly sold it himself on a verified account, I was like, absolutely there's no other option now to just go to the police and face this head-on," she said.
During Bear's trial in 2022, his Twitter account shared a half-price deal for his adult entertainment website alongside a photo of him arriving at court accompanied by his girlfriend.
The image showed him walking from a hired chauffeur-driven white Rolls Royce to the court building, with the accompanying text reading: "50% off my adult site for the next 24 hours. Come see why I'm trending."
Stephen Bear takes selfie and sings before being jailed

'It was really demoralising'
Harrison describes his behaviour as "appalling". But it showed the real Stephen Bear, she adds.
"He was arrogant, he was rude, he was dismissive," she says.
"He treated women outside [the court], especially the reporters, like they were completely insignificant. And that is him.
"So if anything, it was nice for the public to be able to see what I was dealing with in reality."
She had to relive her ordeal in court, verifying photos of the footage that were shown to jurors.
"You feel really exposed, having to go through, one at a time, pictures of you in different sexual positions you had no idea anyone would ever see you in," she says.
"It was really, really tough. And it wasn't just tough for me. I felt embarrassed but I could tell the whole room felt embarrassed, the jury must've felt really uncomfortable as well.
"But I knew I had to do it. So it was just like, bite the bullet and push through. It was really demoralising."
Bear, now 33, was found guilty of voyeurism, and two counts of disclosing private, sexual photographs and films. In March this year, he was sentenced to 21 months in prison.
It was a hugely significant conviction. According to data collated by the women's charity Refuge earlier this year, of 13,860 intimate image offences recorded by 24 police forces between 1 January 2019 and 31 July 2022, the alleged offender was charged or summonsed in just 4% of cases. A conviction is even less likely.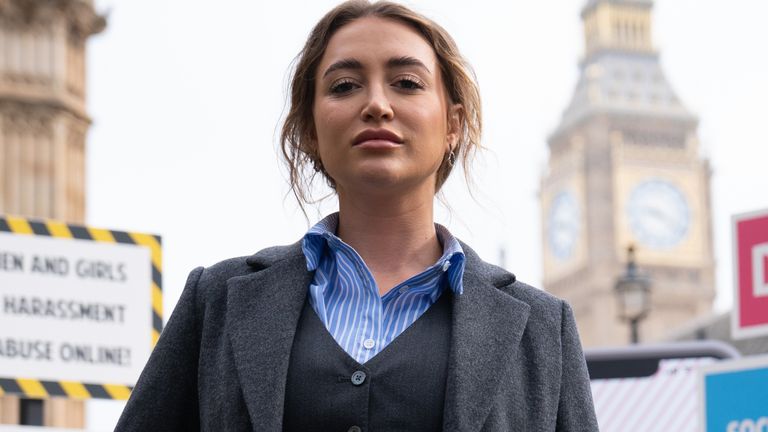 Changes to the law
Following campaigning by Harrison and others, the government in June announced changes to make it easier to convict those who share revenge porn.
While the act was criminalised in 2015, the new amendments will remove the requirement for prosecutors to prove perpetrators intended to cause distress in order to secure a conviction.
"I still find it hard to comprehend that that actually happened," she says. "I think it's going to change conviction rates. I really hope in a year's time I'm having these discussions and I have statistics to show it's made a difference."
She adds: "Because for the girls I speak to, the victims I've spoken to in the past, it really has let them down so many times, that clause."
Harrison now wants online platforms to face tougher consequences for hosting images or footage taken or shared without consent.
She says: "One of the most traumatising things wasn't even coming to terms with the fact he'd done it to me. It was coming to terms with the fact these powerful platforms – who are making billions of dollars a year and are in such a huge position, where they have a responsibility to be looking after their subscribers or their viewers – were just so ignorant."
"None of them wanted to answer me," Harrison says. She received automated responses of "we'll get back to you in five to six days".
'It's not a lot to ask'
She has no faith in big tech companies but does have faith in the Online Safety Bill, which will place new duties on social media platforms to protect users from harmful content.
For the biggest platforms, failure to protect users could see them face significant fines of up to £18m or 10% of global revenue – potentially billions of pounds – and tech bosses could even face prison in extreme cases.
"I think once that comes into play, they're going to put more money into compliance," Harrison says.
She wants social media firms to have employees who can deal with complaints about any form of abuse online.
She explains: "You should be able to speak to a human being who can immediately take the relevant steps to either pause or stop content until it's further reviewed. It's not a lot to ask."
Harrison's life now is vastly different from the one she had mapped out as a reality star and influencer. She worked with multiple underwear brands before all this, but not now.
"I find it weird there was such a stigma in that industry," she says. "I definitely think a lot of brands should be looking into the way they do treat women in these situations and also be doing more to empower women, especially when that's their main clientele. It's a bit hypocritical."
But on the flip side, she says she is "really lucky to be opening new doors". Earlier this month, she received Glamour magazine's activist of the year award. Last month, she visited Downing Street.
"I think when you go through so much in such a small amount of time, it takes a while to adjust back to everything being happy… not having a fear that things are going to go wrong," she says.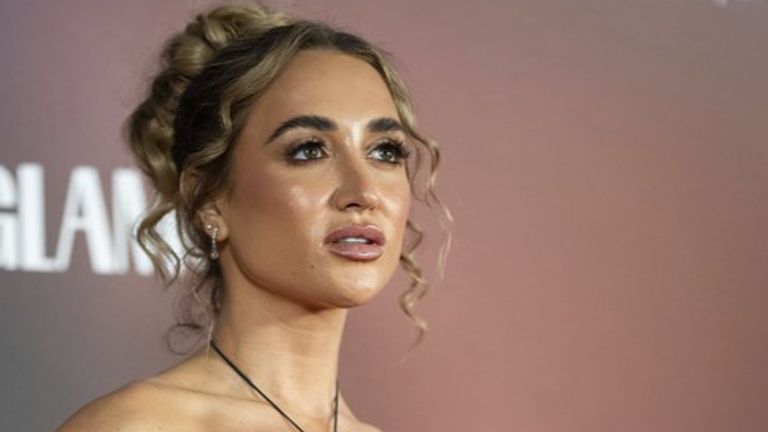 What would Harrison say to Bear?
Harrison has her book out and film projects in the pipeline. "I've got a few things that are going to show my resilient side, which I don't think the UK has seen before," she says.
I'm not sure that's true, I say. If there is one word to sum up the Georgia Harrison of the past few years, it is probably resilient.
She smiles. "You have absolutely nothing to be ashamed of," is her message to anyone else suffering in the same way she did, she says.
I ask her what she would say to Bear, should she ever come across him again.
"Nothing," is the quick response. All she wants is for him to admit to himself, not necessarily even publicly, that he was wrong, and "take steps to rehabilitate himself as a better human being and learn how to respect women, treat women well, and also not break the law in the future".
Harrison finds her stride: "I believe that every human being who has lost their way in this world should have a chance at rehabilitation and bettering themselves and learning from the mistakes, I just don't believe every human being has the ability to do it. But hopefully, he does and he goes on to live a nice life – but a moral life."
Harrison is proud of everything she has achieved and determined to keep being a voice for others who may have suffered similar injustices, but says she needs to still be the old Georgia Harrison, too.
"I'm quite upbeat and comedic, I am a light-hearted person and I feel like those aspects of my personality tend to get a bit drowned out," she says.
"I'm campaigning or speaking about things that are really important subjects, but also really quite mentally draining and quite tiring. So I'm just trying to figure out getting a balance."
She wants to help other people, she says again. "And apart from that, I try and keep it sunshine and rainbows." With that, she grins – telling me she's eager to get changed into her costume for her Halloween party.
Tinkerbell – the fairy who fixes things.
Taking Back My Power, published by Renegade Books, with eBook and audio also available, is out now.