Gaza under fire; hostage fears grow
Friend of missing mother says her children were used as human shields
A friend of a mother taken by Hamas militants in Saturday's attack said her children were used as human shields as the fighters focused on killing and kidnapping Israeli civilians.
Moshiko Ben-Giat, who described himself as a longtime friend of the mother, who's still missing, said militants took her two boys, one aged 4 and one aged 4 months.
The boys were "dragged by the Hamas terrorists from house to house … to be used as a human shield," Ben-Giat said today on MSNBC.
The neighbor looking after the pair was also enlisted to tell locals in Hebrew to come out of shelters, but some did not comply and survived, he said. The children were taken toward Gaza, but as they neared the border the neighbor was told to take them back, Ben-Giat said.
Both children were recovering at a medical facility, Ben-Giat said, where their father reunited with them. The fate of their mother remains unknown.
IDF's fighter jets strike more than 200 targets inside Gaza
Israel's Defense Forces continued to strike targets inside the Gaza Strip Tuesday, three days after Hamas' violent incursion into Israel.
The IDF said it was striking "terror targets belonging to terrorist organizations" inside the enclave in retaliation.
Overnight, it said dozens of fighter jets struck over 200 targets in Rimal and Khan Yunis, which the IDF said are used as "terror hubs" by Hamas.
Israel says border with Gaza finally secured
Israel says it has retaken full control of its border with Gaza, three days after Hamas fighters broke through the fence to launch their operation.
No Hamas militants have crossed into Israel since last night, spokesperson Richard Hecht said, although he added that infiltrations could still be possible.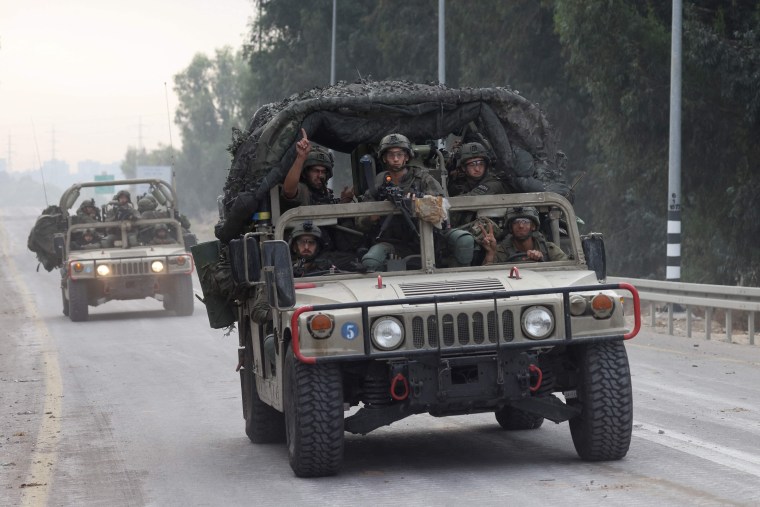 1,500 bodies of Hamas militants found in Israel, IDF says
The bodies of some 1,500 Hamas militants have been found inside Israel, IDF spokesperson Richard Hecht said, three days after the group launched its bloody incursion from the Gaza border.
That number would be a sign of the significant force Hamas appeared able to muster for its daring operation.