Fungal outbreak at Michigan paper mill suspected to have infected nearly 100 workers
Health officials are investigating nearly 100 suspected cases of a potentially severe fungal infection linked to a Michigan paper mill, nearly one month after employees appeared to have "atypical" pneumonia cases.
The investigation began in March after 15 employees of the Escanaba Billerud Paper Mill appeared to be sick early in the year, Public Health Delta & Menominee Counties said in a release at the time. Testing then revealed that the cases were not pneumonia, but a fungal infection called blastomycosis.
At least 19 cases were confirmed at the paper mill as of Friday, with another 74 probable cases, the public health department said last week.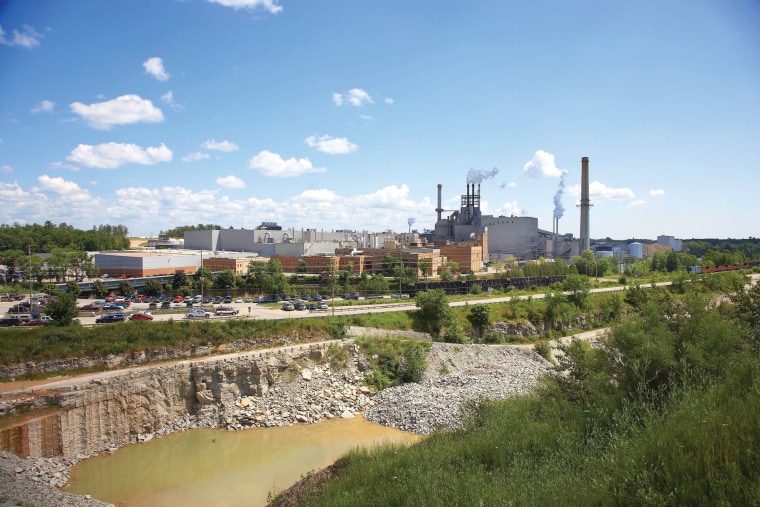 Blastomycosis is caused by a fungus that primarily lives in moist soil and decomposing organic matter, such as wood, and spreads through the inhalation of spores, according to the Centers of Disease Control and Prevention. Symptoms can include fever and cough, but those with more weakened immune systems may have more severe cases.
The infection has the potential to spread to lungs and other organs, the CDC says.
Brian Peterson, the mill's operation vice president, thanked the local, state and federal health agencies assisting in the investigation in a statement released Friday.
"Although the source of the infection has not been established, we continue to take this matter very seriously and are following recommendations from health and government officials and implementing numerous, proactive steps to protect the health and safety of our employees, contractors and visitors," Peterson said.
Billerud is a multinational paper and packaging company based in Sweden.
The company told NBC News on Tuesday that it has implemented recommendations from experts since the outbreak, including retaining an industrial hygienist, testing raw materials, providing N95 masks and conducting deep cleanings.
"Identifying the source of the fungal outbreak can be difficult because the blastomyces fungus is endemic to our area and there has never been an industrial outbreak of this nature documented anywhere in the U.S. from which we can learn," Billerud said in a statement Tuesday.
Its Michigan mill was originally founded in 1911 as the Escanaba Pulp and Paper Company, located on the bank of the Escanaba River. The river connects to the Little Bay de Noc off of Lake Michigan.
Blastomyces, the fungus that originates the infection, is typically found in the areas surrounding the Great Lakes, as well as the Ohio, Mississippi and Saint Lawrence River, according to the CDC.
More than 800 people are employed at the mill, which has the capacity to produce approximately 730,000 tons of paper annually, according to Billerud's website.