Fidias Panayiotou: YouTuber apologises for fare dodging, begging and eating without paying in Japan | World News
A YouTuber could be investigated by Japanese police after begging for cash and hitching free train rides in a video online.
Fidias Panayiotou posted a video titled I Travelled Across Japan For Free on 20 October, which featured him and three others competing in a race across the country for $10,000 (£8,216).
The YouTuber, who has 2.4 million subscribers, filmed himself riding on Japan's public transportation system – and claimed he did so without paying.
In the since-removed video, Panayiotou said he'd been detained at a police station after he told officers he didn't have enough money to pay for his bus fare.
A stranger earlier gave him 600 yen (£3.30), but he was still short of the full fare.
According to Japanese laws, begging is not allowed in the country and may constitute a criminal offence.
He later in the video was caught by a train conductor for travelling without a ticket. He feigned illness before running away and boarding another train, where he hid in a bathroom to dodge staff.
A spokesperson from regional train operator Kyushu Railway Company said that they will review Panayiotou's video before they decide to lodge a police report.
"We are aware of the case and investigating facts around it," they said.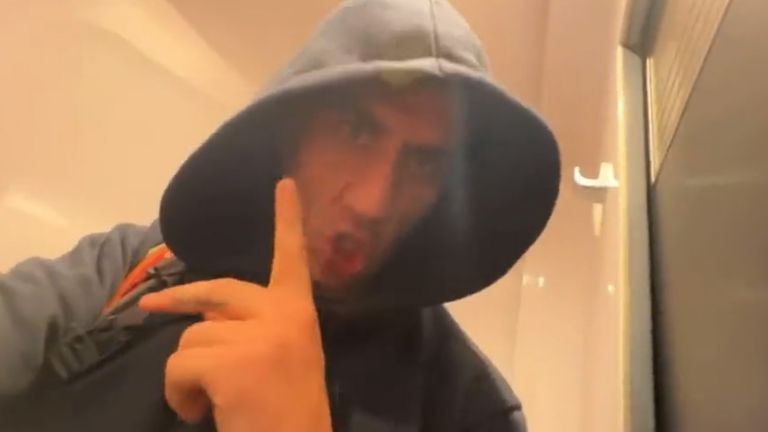 'I apologise to the Japanese people'
Panayiotou also filmed himself getting what he said was a free breakfast at a hotel he wasn't staying at.
"I went up to the rooms to check the number so that I could use it as a passcode for the breakfast," he said.
"And it worked. I just have access to a five-star Japanese buffet … And we're leaving the hotel without getting caught and without any problem."
YouTube removed Panayiotou's video, saying it violated the platform's community guidelines.
He has since apologised, saying: "Hello beautiful people, I apologise to the Japanese people if we made them feel bad, that was not our goal!"