Death of a Florida mother triggers check of her young twins, found dead at home
The death by suicide of a Florida woman triggered a wellness check on her 5-year-old twins, whose lifeless bodies were discovered Friday at home in an apparent homicide.
Seminole County Sheriff Dennis Lemma announced the cascade of tragic events at a news conference later Friday, saying his detectives believe they have a "murder-suicide situation" on their hands.
Witnesses reported seeing the mother, Catorreia Hutto, 31, drive to the "crest" of Lake Jessup Bridge in Oviedo at 8:45 a.m., stop, get out, and jump. Her lifeless, floating body later was pulled from the water, Lemma said.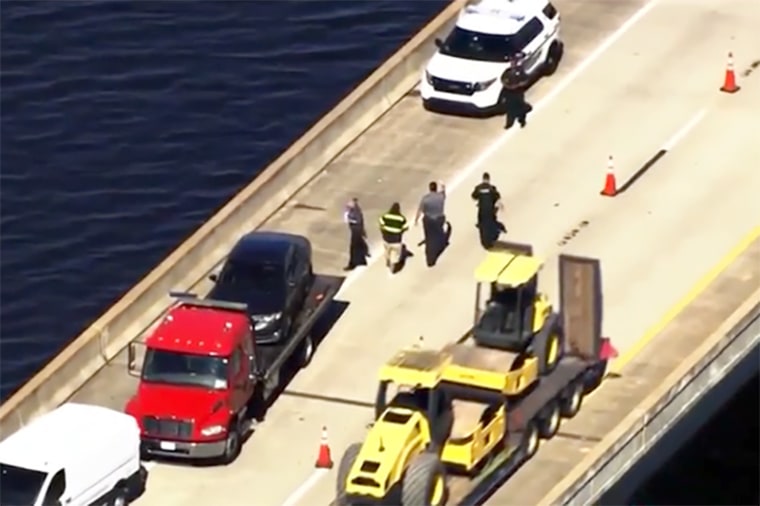 Deputies then went to check on the twins at their home in Sanford, he said. The exact way the children died was a mystery, the sheriff said, although the office implicated the mother in its characterization of the case as a murder-suicide.
No trauma or blood was apparent, Lemma said, and the twins appeared to be sleeping. The home is about 7 miles north of the bridge; the bridge is about 28 miles north of downtown Orlando.
"If they did not check the vital signs," Lemma said of deputies who went to Hutto's home and found the pair, "they would not know they were deceased."
Deputies found a gun on the ground with live rounds nearby, but it did not appear the children were shot, the sheriff said. No empty or fired cartridge cases were observed, he said.
A coroner's official said an autopsy could lead to a conclusion regarding cause and manner of death for the children within 48 hours, but information might be sealed by detectives if they continue to probe the case.
The twins were identified publicly by Lemma despite the inability of authorities to reach their father, he said.
The sheriff said Hutto aquired her home through the nonprofit Habitat for Humanity, known for building houses and giving them to people whose income prevented them from buying one.
NBC affiliate WESH of Daytona Beach reported Hutto moved in a little more than a year ago.
It was sparsely appointed, with "not much food," Lemma said.
Hutto was working for a temp agency doing clerical jobs, he said, and had last worked a few days ago. "The family might have been struggling financially," he said.
Even so, there were not outward signs of rapid decline, the sheriff said, and there were no reports about the family on file with his office or the Florida Department of Children and Families.
"Nobody that we know had any indication that she may be in this dire state," Lemma said.
He said the twins' grandmother described their mother as struggling with lifelong depression.
That Florida Department of Children and Families did not immediately respond to a request for comment. The children's school district, UCP (Unlocking Children's Potential) Charter Schools, identified the two as kindergartners in a statement to WESH.
"The entire UCP community is deeply saddened by the sudden passing of two of our Seminole County school's kindergarten students and feel shocked by the circumstances," CEO and Superintendent Ilene E. Wilkins said in the statement.
Neighbor Latoshia Reynolds told the station she wonders if Hutto felt isolated.
"I am absolutely heartbroken," she said. "I have empathy. I don't have to know her. I have a daughter of my own, and what first comes to be is that she may not have had anyone to reach out to."
If you or someone you know is in crisis, call 988 to reach the Suicide and Crisis Lifeline. You can also call the network, previously known as the National Suicide Prevention Lifeline, at 800-273-8255, text HOME to 741741 or visit SpeakingOfSuicide.com/resources for additional resources.