'Conflicting' accounts complicate investigation into Jewish man's death after California rallies
A suspect in the confrontation that led to the death of a Jewish man who was injured during dueling Israeli and Palestinian rallies in California has been "cooperative," was briefly detained and called 911 to seek medical help for the victim, officials said Tuesday.
But authorities investigating the case declined to identify the suspect or classify the incident as a hate crime, saying they are still trying to piece together what led to the dispute.
Paul Kessler, 69, died Monday, one day after he participated in a pro-Israel rally in Thousand Oaks, California, where he got into a "physical altercation" with "counter-protestor(s)," witnesses told the Ventura County Sheriff's Office. Kessler was allegedly struck in the head by a megaphone held by a pro-Palestinian demonstrator, the Jewish Federation of Greater Los Angeles said in a statement.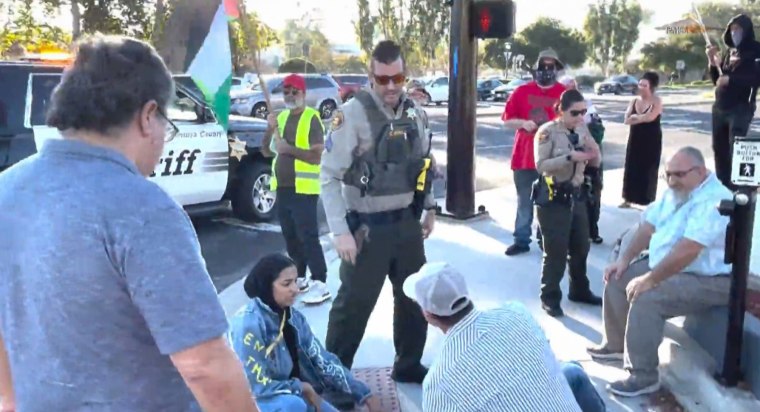 Kessler allegedly fell backward and hit his head on the ground during the altercation.
When deputies and EMS arrived to the scene, they found Kessler on the ground, Sheriff Jim Fryhoff told reporters. He was conscious and was able to speak with deputies, the sheriff added.
The suspect, 50, "willingly remained" at the scene and was interviewed by deputies, Fryhoff said.
Detectives obtained a search warrant for him and his Moorpark residence on Monday, according to the sheriff, who did not specify what investigators were looking for during the search. He was detained and released more than an hour after a traffic stop in Simi Valley.
As of Tuesday afternoon, there had been no arrests in the case.
Fryhoff said it's not "crystal clear right now" what led to Kessler's fall.
The sheriff said interviews with witnesses have yielded "conflicting" accounts. He asked the public and witnesses to come forward with photos or videos and tips regarding what happened.
An autopsy conducted Monday determined the cause of death to be blunt force head injury and the manner of death homicide — which is defined as death at the hands of another person but doesn't suggest wrongdoing. 
"Manner of death of homicide does not indicate a crime has been committed — that's determined by DA's office," Ventura County Chief Medical Examiner Dr. Christopher Young said.
Young said that the autopsy found Kessler sustained injuries consistent with a fall.
The sheriff's office said Monday that it's investigating the incident and "has not ruled out the possibility of a hate crime." 
The FBI is in communication with the sheriff's office to determine the circumstances of Kessler's death, a bureau spokesperson said Tuesday.
Photos on social media showed Kessler before the altercation waving an Israeli flag at an intersection. Another image showed him receiving treatment on a sidewalk at 3:20 p.m. (6:20 p.m. ET), with his head laying on a bloodied homemade sign. 
The incident comes as tensions from the Israel-Hamas war in the Middle East have reverberated across the U.S. It has been a month since the surprise Hamas terrorist attack that Israel says killed 1,400 people, with 240 still held hostage in the Gaza Strip. More than 1.5 million people have been displaced in Gaza, and health officials there say more than 10,000 have been killed as Israel bombards the Palestinian enclave from the air and assaults it on the ground.
Fryhoff said Tuesday there'll be increased patrols around mosques, Muslim community centers as well as Jewish community centers. 
"We want to assure the Muslim and Jewish communities that we stand with both of them during this difficult times," he said citing the war.
Kyle Jorrey, a former editor at a local paper, the Thousand Oaks Acorn, said Kessler wrote letters to the paper "all the time."
"What I can say is he was passionate about political issues (liberal causes) and wasn't afraid to let people know how he felt," he told NBC News Tuesday. 
"Doesn't surprise me at all that he was out there as a counter protester even at his age. He attended many demonstrations related to the progressive causes. He wrote us consistently for over 20 years on subjects ranging from climate change to 'fake news' to the Covid vaccine and he had a sharp wit about him and didn't pull punches," he added.
Los Angeles Mayor Karen Bass addressed Kessler's death in a statement on Tuesday, saying it "is a blow to our region at a time when tensions continue to rise worldwide."
She added: "We must redouble our efforts to ensure violence and hate are met with accountability and consequences. Los Angeles refuses to harbor this hatred." 
While Kessler's injury at the dueling protests sparked a social media frenzy and drew quick condemnation from Israeli leaders who called his death an act of antisemitism, local officials have urged caution and patience as the investigation unfolds.
"We are deeply saddened by this tragic and shocking loss," the Greater Los Angeles Area office of the Council on American-Islamic Relations said in a statement Monday. "We join local Jewish leaders in calling on all individuals to refrain from jumping to conclusions, sensationalizing such a tragedy for political gains, or spreading rumors that could unnecessarily escalate tensions that are already at an all-time high."
"We urge everyone to wait for the Ventura County Sheriff's Office to complete its investigation before drawing any conclusions. Our thoughts are with the family and the Jewish community during this difficult time," the statement continued, adding CAIR-LA and the Muslim community stand with the Jewish community in rejecting violence, antisemitism and Islamophobia. 
In a post on X, Rabbi Michael Barclay of Temple Ner Simcha, near where the incident took place, called for patience.
"Please do not make assumptions or accusations until the police can do their job and/or we get real video," he wrote.