Band sued by easyJet brand owners to change name | Ents & Arts News
A band that was sued by the brand owners of airline easyJet because their name was too similar have said they will change their moniker.
The indie band easy life said they were sued by easyGroup because their name was too similar.
In a letter posted on their website, the Leicester band said the name change will take effect on Friday after they play two farewell gigs in their hometown and London.
The band will now enter legal mediation with easyGroup, they said.
"Having explored literally every possible avenue, we have realised that there are no good options available to us, and we need to change our name to move forward," the band said in the letter.
"Sadly, it seems that justice is only available to those who can afford it. We simply don't have the funds to access a fair trial in the High Court.
"Not to mention the fact that this would likely rattle on through to 2025, and with this hanging over us we wouldn't be able to release any music in the meantime. Our careers, and indeed our lives, would be on hold.
"We're not a nameless company; it's our own personal names on the paperwork. This means that should we lose, the costs will be recouped from us personally. They could take everything; material possessions, our livelihoods, our homes.
"You can imagine the turmoil this has caused us, but I really hope this helps you understand our situation. We have found solace in the outpourings of love and support, for which we are all grateful beyond words."
In an Instagram post, the band said: "It's David vs Goliath and our British legal system favours Goliath."
A spokesperson for easyGroup said they would not be commenting until "all the legalities are sorted out".
easyGroup was set up in 1998 by Sir Stelios Haji-Ioannou and owns the family of brands under the "easy" name. It is the private investment vehicle for Sir Stelios but each of the brands, including easyJet and easyHotel, are separate companies.
Read more:
Holly Willoughby quits ITV's This Morning
Netflix star heads to Israel warzone to rescue families
Jerry Seinfeld hints at TV show reunion
It has previously taken legal action against several companies over the use of the "easy" brand. It has a section on its website titled "brand thieves", which includes details of its legal battles over the name.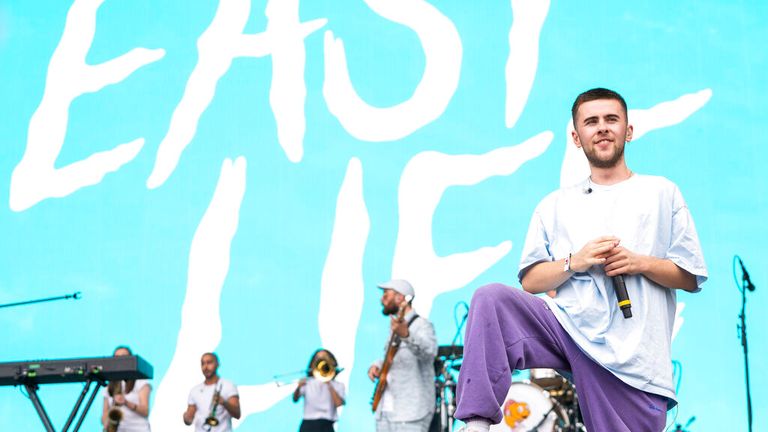 In a filing submitted to the High Court, seen by Sky News, easyGroup claims it "has suffered and/or is likely to suffer loss and damage" as a result of easy life's name, as easyLife is among its family brands. The lawsuit states that the financial value of the claim cannot currently be estimated, but it is considered to be "substantial".
The critically acclaimed band released their first single in 2017 and has had two Top 10 albums.