Aled Jones: Teenager who threatened to behead singer during Rolex robbery locked up | UK News
A machete-wielding teenager who threatened to behead singer Aled Jones as he robbed the star of his £17,000 Rolex watch has been locked up.
The 52-year-old Welsh baritone was walking along a street in west London with his son on 7 July when the 16-year-old boy, who cannot be identified, attacked him.
Having spotted the Daytona Rolex on Mr Jones's arm the teenager pointed a machete in his face and told him to remove the watch, Ealing Magistrates' Court was told on Tuesday.
When he noticed the singer was still following him after handing over his Rolex the attacker warned: "Walk the other way or I will cut your head off."
The youth was handed a 24-month detention and training order – having turned up late for court a second time.
Chairman of the bench Rex Da Rocha told him his record was "appalling", adding: "Your actions are not acceptable.
"Pointing that machete at an innocent person is totally unacceptable."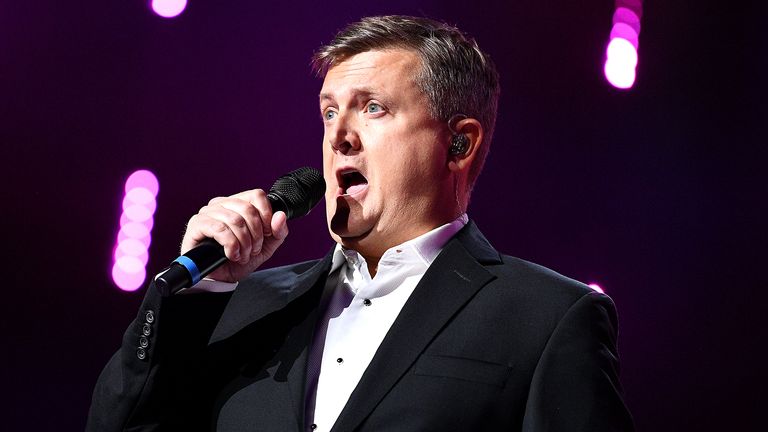 Read more:
Factory worker who contaminated food supplied to Nando's jailed
Trial date set for teenager accused of murdering schoolgirl
CCTV was collected from the area after the robbery and the teenager was arrested at his west London home.
At the time of his arrest he was wearing a black Nike tracksuit and his trainers were the ones he was wearing in the footage. A machete was found in his room.
Mr Jones's son later picked the attacker out in an identity parade.
When asked if he wished to address the court about his actions the teenager said: "I don't think I need to say anything."
The boy previously stole a gold Rolex watch worth £20,000 from a man in his 70s at Paddington station in west London, the court heard.
He had been due to stand trial for robbing Mr Jones at Wimbledon Youth Court in August but pleaded guilty to robbery and possession of an offensive weapon – having arrived late with his trial already under way.