After Maine's deadliest mass shooting, Lewiston region looks forward
LEWISTON, Maine — Following the deadliest mass shooting in state history, the region officially gathered, grieved and took wisdom from community voices who granted permission to heal.
Vigils dominated the weekend and provided spiritual sustenance for the state's second-largest city and neighboring towns, where authorities are probing why an Army reservist fatally shot 18 people Wednesday before his body was found in adjacent Lisbon on Friday with a self-inflicted gunshot wound.
Lea Boisvert of Lisbon was a longtime friend of Arthur Strout, who was gunned down at Schemengees Bar & Grille in the Lewiston rampage.
She said coming together is vital to the community.
"Lewiston is the smallest big town you're going to find," she said after having attended a vigil near her home Saturday night. "But Lisbon's even smaller, and just having everybody come out to show their support, it's about community. It's about being together right now."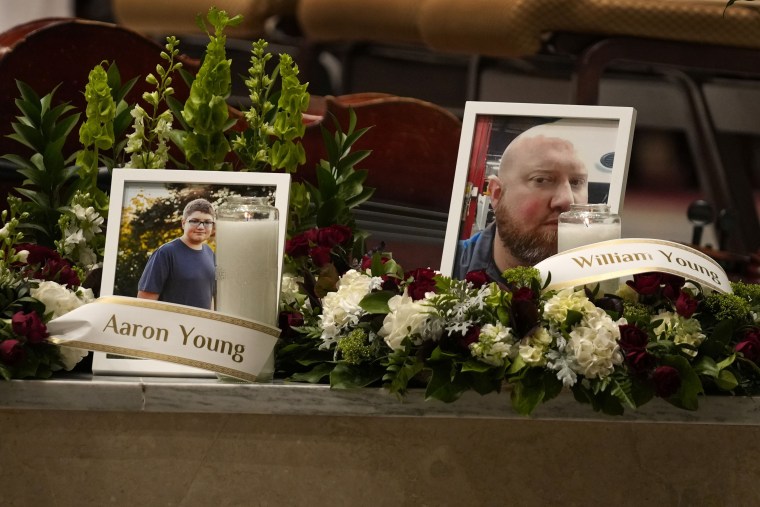 Boisvert said fear enveloped the region as shelter-in-place orders were in effect through Friday amid one of the state's largest-ever manhunts. Now it must give way to a renewed sense of trust, she said.
"That sense of community that Androscoggin County has was not built overnight, but it was destroyed overnight," Boisvert said.
Speaking as she awaited the start of a vigil Sunday night at the Basilica of Saints Peter and Paul in Lewiston, city resident Donna Poirier said fear of a mass killer on the loose was paralyzing until she realized gathering was imperative.
"I think we're all in shock," she said. "And the worst part is I can't do anything but be here."
Resident Sue Tymoczko, also awaiting Sunday's vigil, said, "I just needed to be here."
Inside, victim Joshua Seal's wife, Elizabeth Seal, walked up to the wreath memorial with one of her children, who started sobbing when she saw a picture of her father.
Joshua Seal's name was read as victims' names were announced, and she cried once more.
Gov. Janet Mills and Maine's U.S. senators, Susan Collins and Angus King, sat together in the front row as hundreds of other people packed the venue, with more gathering outside.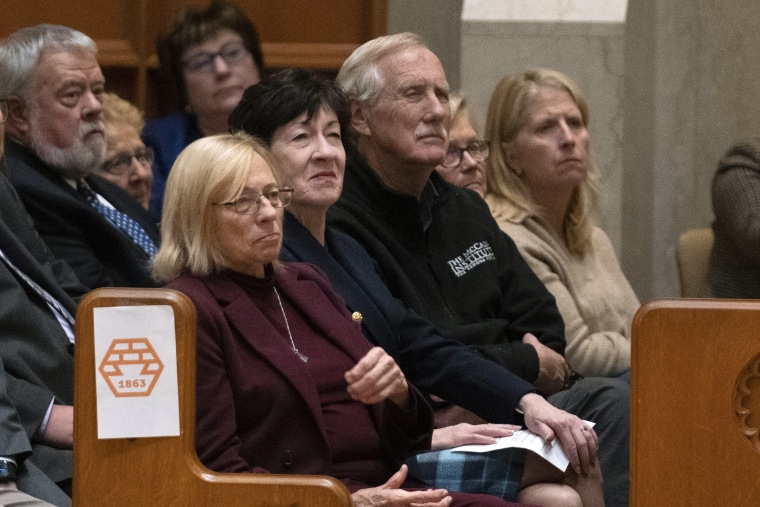 A deaf interpreter had everyone in the basilica sign "I love you" at the same time.
Lewiston, a mill town, received its charter in 1795 and quickly earned a reputation as a place where the Protestant work ethic was woven into daily life, even as Catholicism is more prominent.
Tom Caron, a Boston-based anchor on New England Sports Network, presided at the vigil Sunday.
He told the audience that his son once said Caron has a strong work ethic.
"Well, I'm from Lewiston," he said he responded. "That's what it means to be from Lewiston."
Allen Austin, the senior pastor of Lewiston's Pathway Vineyard church, was a guest speaker. He said the community — the city has a population of roughly 37,000, while surrounding Androscoggin County is home to an estimated 113,000 — will never be the same.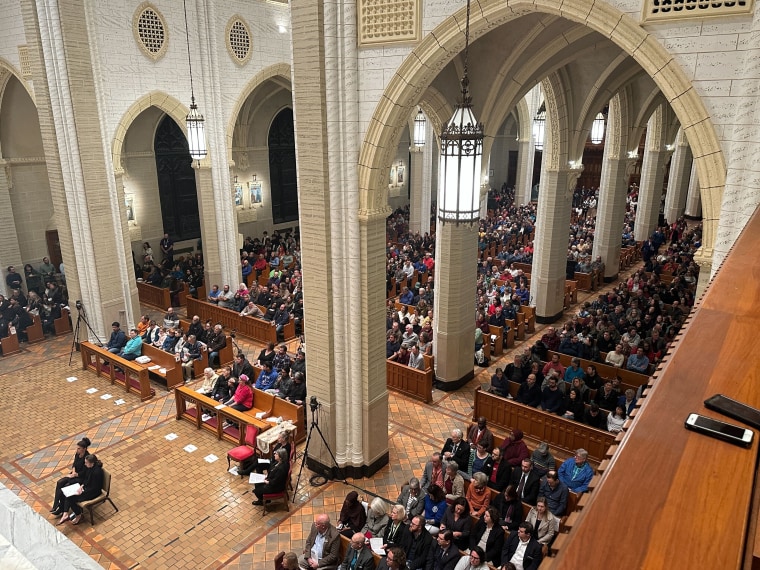 "These events will never make sense to us," he said. "We're never prepared for events such as this."
But that doesn't mean the region can't learn and evolve, Austin said.
"God gives us a path we can choose to walk down in moments like this," he said. "We become a kinder people; we become a more compassionate people; we become a more merciful people."
The vigils were intended to give memory to the fallen but also to mark a new beginning for an old region that was under siege and under orders to stay put just a few days ago.
"For those 48 hours, we were all so scared," Boisvert said. "So to be able to start to rebuild, that is a powerful gift that we've been given."